In Memoriam:

Dr. Dennis C. Smith
Professor-in-Residence, 2006-2015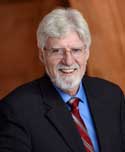 It is with great sadness that we announce the untimely passing of Dr. Dennis C. Smith. Professor Smith served as a distinguished Professor-in-Residence for the Assembly Intern Program from 2006 through 2015. In his 10 years as Professor-in-Residence for the Assembly Intern Committee, Dennis was able to touch and enrich the lives of over 1500 Interns. Dennis was always very generous with his time and his vast knowledge and experience. He co-taught the main academic course in the Internship Program, mentored the students as they mastered the techniques and knowledge culminating in the annual Mock Legislative Session, provided career and graduate school advice to countless interns, and through his extraordinary work as a scholar, teacher and private citizen modeled for all our Interns a life dedicated to public service.
"Grateful. Humbled. Honored. That is how I feel to have known Professor Smith. Kind. Caring. Devoted. Those are just a few of the countless adjectives I would use to describe Professor Smith. He will be missed, but the legacy he leaves behind though thousands of lives touched and students taught will last for decades to come." Clinton Britt, Session Intern 2007
Dr. Smith received his Ph.D. in political science from Indiana University, and beginning in 1973, taught courses in public policy analysis at the Robert F. Wagner Graduate School of Public Service at New York University. He wrote many articles and book chapters, but was perhaps best-known for his seminal work on police management reform called CompStat, which he wrote with Police Chief William Bratton. He was a consultant to numerous New York City agencies including the New York Police Department, the Department of Environmental Protection and the New York City Human Resources Administration and to non-profit organizations, as well as to the US Senate Democratic Policy Committee. From 1998-2003 he led the Wagner School International Initiative, in which capacity he directed the School's State Department-funded University Partnership in policy analysis capacity- building with Eduardo Mondlane University in Maputo, Mozambique, and a legislative leadership program in partnership with the Ukrainian Academy of Public Administration. He presented his work on performance management in policing to Hong Kong, Morocco, Mozambique, the Republic of South Korea, as well as around the United States. Dr. Smith enriched the Internship Program with his policy analysis learning and experience both in the United States and abroad. He helped to bring many international students to serve as undergraduate and graduate interns in the Assembly Internship Program.
It was an honor and a privilege to work with Dennis as such an integral part of the Assembly Intern Program. He will be deeply missed, both professionally and personally, by students, administrators, legislators and staff.