An example of a Famous Assemblymember
Alfred E. Smith
December 30, 1873 - October 4, 1944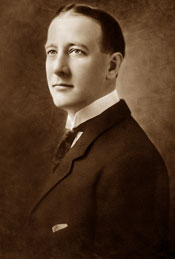 Alfred E. Smith - Member of the New York State Assembly, progressive four-term governor of New York and U.S. presidential candidate - was born in Manhattan's teeming Lower East Side on December 30, 1873. Smith was of Irish, English, Italian and German heritage, making him not only New York's first elected Irish-American governor, but the first Italian-American governor too
Throughout his life, Smith was known as a no-nonsense hard worker. He supported his family from the age of 12, when his father died, by working as a newsboy and then a fishmonger in New York's famous Fulton Fish Market. His first political job came in 1895 when he became a clerk in the office of the Commissioner of Jurors, and in 1903 he was elected to the Assembly, owing to his tireless work ethic and his "his wit and appealing personality."1
Smith served as a Member of the Assembly for 12 years, rising to become chair of the Ways and Means Committee in 1911, Majority Leader in 1912 and Speaker of the House in 1913.
Throughout his political career, Smith proved himself to be a skilled politician and an influential reformer. As vice chairman of the New York State Factory Investigating Commission, which was established following the Triangle Shirtwaist Factory fire in 1911, Smith was a key player in recodifying the state's labor laws to better protect thousands of hardworking New Yorkers.
In 1919 Smith was elected governor of New York State, ousting incumbent Charles S. Whitman. Forever an advocate of the working class, in his first two-year term Smith worked tenaciously to enact extensive reform legislation, including passing new workers' compensation, agriculture and health laws and instituting improved factory and housing requirements. He also ratified the women's suffrage amendment, passed groundbreaking measures to increase compensation for teachers and funding for hospitals and mental health facilities, and instituted several major public works projects, including construction of the Art Deco style State Office Building in Albany - later named for Smith in 1945 - which was, at the time of its construction in 1929, the tallest building between Boston and Buffalo and New York City and Montreal.
Al Smith had a lifelong love of animals, and as a child he kept many, including a goat, in the attic of his family's home. When Smith became governor, many people gave him animals as gifts, and he kept them on the grounds of the Governor's Mansion, which was dubbed "Al Smith's Zoo" during his eight years as governor.
Smith, New York State's first elected Roman Catholic governor, lost his re-election bid after his first term but came back to serve three more two-year terms from 1923 through 1928, making him one of only three New York State governors to be elected to four terms.2
Smith's fourth win in 1926 brought him to the forefront of the national political scene and bolstered his candidacy for the 1928 presidential election. Based largely on his progressive track record and his anti-Prohibition stance, Smith was nominated the Democratic candidate for president but lost the election to Herbert Hoover, owing largely, it is believed, to prejudices against Smith's Roman Catholicism and his early career connections to Tammany Hall.
Following the election, Smith went into private business and for many years served as president of the corporation that oversaw the construction and management of the Empire State Building, then the world's tallest skyscraper.
Smith was married to Catherine A. Dunn in 1900 and had five children.
Deemed one of the greatest Americans of his generation by the New York Times at the time of his death on October 4, 1944, Smith's legacy is that of a true meritocrat, and he is remembered for his notable wit, his unparalleled command of the law, and his unwavering tenacity in bringing social reform to New York State.
---
1. New York Times, Oct. 5, 1944.

2. Gov. Martin Glynn was the first Roman Catholic to serve as governor of New York State. He was sworn into office in 1913 after Gov. William Sulzer was impeached and removed from office. The three New York State Governors who were elected to four terms were George Clinton (who served six terms), Herbert H. Lehman, and Nelson Rockefeller.