Kaminsky, Rozic, Lavine Host Israeli Ambassador Dani Dayan
Lawmakers pass resolution celebrating Yom Ha'atzmaut
May 2, 2017
Ambassador Dani Dayan meeting with Assemblyman Charles Lavine and staff.
ALBANY — In honor of Yom Ha'Atzmaut (Israeli Independence Day), State Senator Todd Kaminsky (D-Long Island), Assemblywoman Nily Rozic (D,WF-Fresh Meadows) and Assemblyman Charles Lavine (D-Glen Cove) hosted Israeli Consul General Dani Dayan in Albany. On the same day, Kaminsky's resolution in the Senate and Rozic's resolution in the Assembly honoring 69 years of Israeli Independence were adopted and presented to Ambassador Dayan.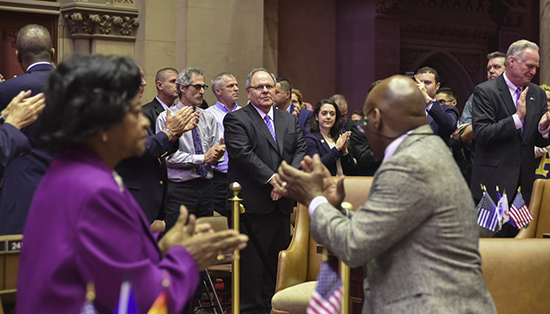 Ambassador Dani Dayan introduced and welcomed in Assembly chambers at the start of session.
"Israel is a stronghold of democracy in the face of constant terror and shares an unbreakable friendship with New York State and its citizens," said Senator Todd Kaminsky. "I was honored to present Ambassador Dayan with this resolution reaffirming New York's integral alliance with Israel, while congratulating Israel on 69 years of independence. I look forward to continuing to work with Ambassador Dayan to strengthen the integral strategic, economic and cultural ties between our great State and the Jewish homeland."
"As the first Israeli member elected to the State Legislature, it is an honor to welcome Ambassador Dayan to Albany and celebrate Israel's 69 years of statehood. This occasion not only commemorates Israel's Independence Day, but also serves as a reminder of the strength that lies in the shared values between the people of Israel and New York," said Assemblywoman Nily Rozic.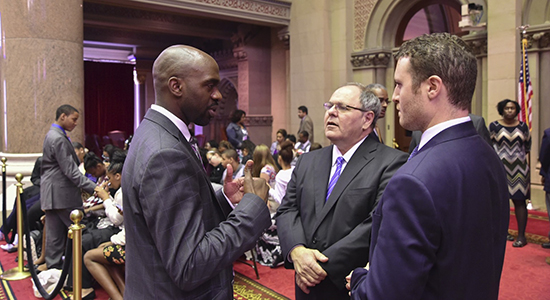 Assemblyman Michael Blake speaking with Ambassador Dani Dayan in Assembly chambers.
"We welcome Ambassador Dayan of Israel to Albany to commemorate Israel's Independence Day and the extraordinary relationship between Israel and New York State. Israel is our strategic ally in one of the most difficult areas of the world and it is of the most importance that this relationship continues," said Assemblyman Charles Lavine, President of the New York Chapter of the National Association of Jewish Legislators.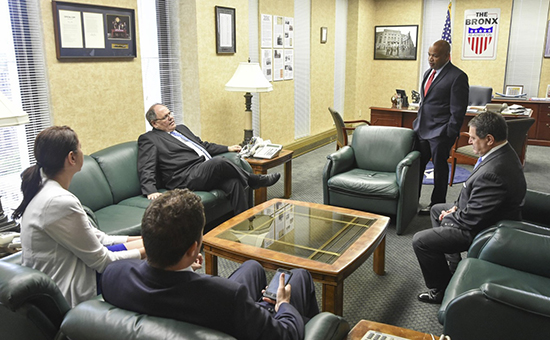 Speaker Carl Heastie, Majority Leader Joseph Morelle, and Assemblywoman Nily Rozic meet with Ambassador Dani Dayan.
"I am deeply honored by the heartfelt welcome my distinguished friends in Albany have extended to me and by the passing of this resolution, honoring Israel's 69th Independence Day and reaffirming New York's special covenant with the Jewish state. Today I have met with leaders representing New Yorkers from every corner and every community, and it gives both me and the citizens of Israel encouragement and inspiration to see that our two nation's unbreakable bond has an extraordinary strong point in the great state of New York. In particular I would like to thank Senator Kaminsky and Assemblywoman Rozic for their leadership in introducing this resolution, as well as Speaker of the Assembly Carl Heastie and Senate President John Flanagan for their support," said Ambassador Dani Dayan, Consul General of Israel in New York.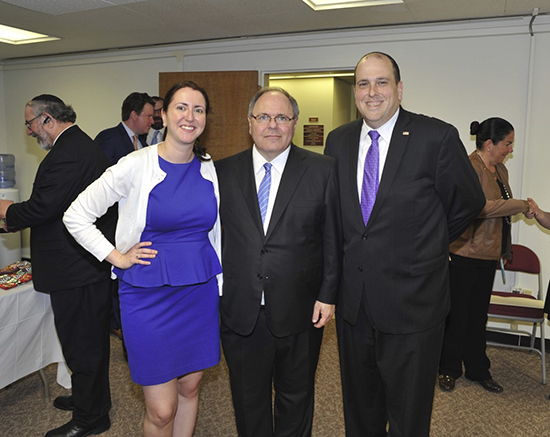 Assemblywoman Nily Rozic, Ambassador Dani Dayan, and Assemblyman Michael Simanowitz, at the Ambassador's welcome reception.
Ambassador Dayan met with Senator Kaminsky, Assemblymembers Rozic, Lavine, and Crespo, Assembly Speaker Carl Heastie, Assembly Majority Leader Joseph Morelle, Senate Majority Leader John Flanagan and Senate Minority Leader Andrea Stewart-Cousins to discuss ways to further bolster New York's alliance with Israel. The Consul General was introduced in both chambers as the resolutions were passed. Senator Kaminsky, Assemblywoman Rozic as well as fellow lawmakers praised the accomplishments of the Jewish state in the face of terror and evil, and pledged to continue to stand with Israel and its citizens.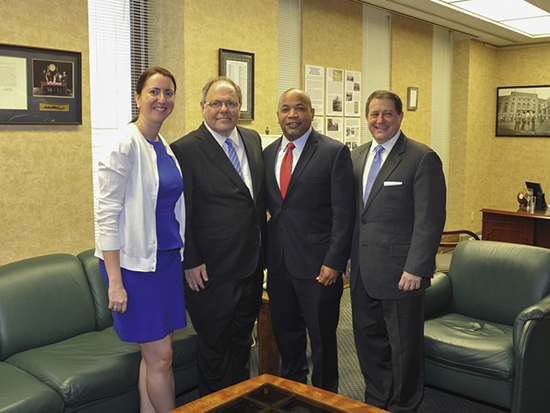 Assemblywoman meets with Nily Rozic with Ambassador Dani Dayan, Assembly Speaker Carl E. Heastie, and Majority Leader Joseph D. Morelle.
Senator Kaminsky and Assemblywoman Rozic have long been leading voices on New York's alliance with Israel. Most recently, they have led efforts to promote the security of Israel through legislative action. Senator Kaminsky has sponsored legislation to bar state funding to campus groups that promote the Boycott, Divestment and Sanctions (BDS) movement, including Students for Justice in Palestine (SJP). Assemblywoman Rozic sponsors a bill in the current Assembly term to keep in place the state's existing sanctions against Iranian nuclear ambitions and terrorist campaigns. Both Senator Kaminsky and Assemblywoman Rozic have traveled to Israel with an Assembly delegation where they were briefed by members of the Israel intelligence community and saw firsthand the extreme threat that the Jewish homeland faces.
The full text of the resolution is below.
CONGRATULATING the State of Israel upon the occasion of the 68th Anniversary of its independence and reaffirming the bonds of friendship and cooperation between the State of New York and Israel

WHEREAS, May 2, 2017, marks the 69th Anniversary of the founding of the modern State of Israel in the ancestral home of the Jewish people; and

WHEREAS, On November 29, 1947, the United Nations General Assembly voted to partition the British Mandate of Palestine, and through that vote, to create the State of Israel; and

WHEREAS, Israel was officially declared an independent nation on May 14, 1948, in fulfillment of the eternal desire of the Jewish people to return to the land of the historic Kingdom of Israel established 3,000 years ago and to the holy city of Jerusalem; and

WHEREAS, A century ago at the First Zionist Congress, in Basel, Switzerland, participants under the leadership of Theodore Herzl affirmed the desire to reestablish a Jewish homeland in the historic land of Israel; and

WHEREAS, The modern State of Israel was born out of the ashes of the Holocaust and World War II where the death of six million Jews did not eliminate the will of a people to seek dignity in life and a place of respect and recognition among the people of the civilized world; and

WHEREAS, Israel, since its inception, when the combined forces of five Arab nations invaded to destroy the dream of the Jewish people, continues to face the hostility, and frequently through the years of its statehood, the armed aggression, of its neighbors; and

WHEREAS, Despite these conflicts, in the 69 years since its establishment, the modern State of Israel has rebuilt a nation, forged a new and dynamic society, and created a unique and vital economic, political, cultural and intellectual life despite the heavy cost of six wars, terrorism, international ostracism and economic boycotts; and

WHEREAS, In its 69 years of statehood, Israel has established a modern parliamentary democracy and has become the most successful democracy in the Middle East, and has provided its citizens with the highest standards of living and human equality in a region otherwise beset with poverty and human rights abuses; and

WHEREAS, Israel has made significant global contributions in the fields of science, medicine, and technology; and

WHEREAS, Israel continues to strive for peace with security and dignity for itself, its neighbors and throughout the world in order to fulfill the prophecy of becoming a light unto the nations; and

WHEREAS, The people of New York share an affinity with the people of Israel and view Israel as a strong and trusted ally; now, therefore, be it

RESOLVED, That this Legislative Body pause in its deliberations to congratulate the State of Israel upon the occasion of the 69th Anniversary of its independence and reaffirming the bonds of friendship and cooperation between the State of New York and Israel.

RESOLVED, That a copy of this Resolution, suitably engrossed, be transmitted to the Consul General of Israel for New York, Dani Dayan.