O'mara and Palmesano Pay Tribute to GST BOCES Instructor Dale Robie
NYS Skills USA names Robie as 2017 'State Advisor of the Year'
June 15, 2017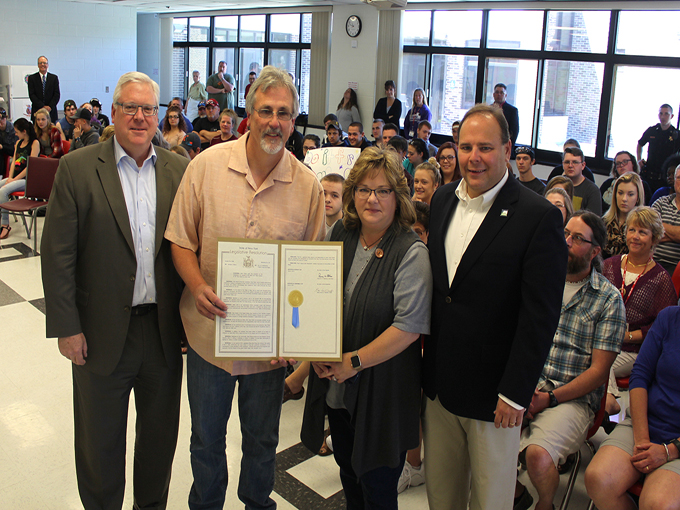 Painted Post, N.Y., June 15— A leading New York State workforce development organization, SkillsUSA, recently named Greater Southern Tier BOCES (GST BOCES) Digital Media Arts instructor Dale Robie as its "Advisor of the Year."
On Friday, June 9, State Senator Tom O'Mara (R,C,I-Big Flats) and Assemblyman Phil Palmesano (R,C,I-Corning) paid their own tribute. The area lawmakers visited the GST BOCES Coopers Plain campus where Robie teaches and presented him with an official Legislative Resolution recognizing the Skills USA designation. [See attached photos]
In a joint statement, O'Mara and Palmesano said, "Workforce development is one of the critical challenges facing the Southern Tier and no one plays a more active role in preparing our students. Dale instills character in young lives. He nurtures their skills and builds a foundation for their success. His commitment to his students and their futures is unmatched and we could not be prouder to have this opportunity to thank Dale for making such an enormous difference in so many young lives."
The New York State Association of Skills USA (NYS Skills USA), an affiliate of the nationwide SkillsUSA organization, is a partnership of students, teachers and industry working to ensure a skilled workforce. Robie, of Savona (Steuben County), serves as the lead advisor for SkillsUSA at the GST BOCES Coopers Campus in Painted Post. He also teaches at a summer camp program for younger students interested in digital media arts.
GST BOCES Executive Director for Career and Technical Education (CTE) Programs Chris Weinman said, "Dale Robie is a wonderful example of a master teacher who always goes above and beyond the call of duty for students. Dale's commitment to supporting GST BOCES CTE students in their participation in SkillsUSA is exceptional and this recognition is well deserved."
Dale Robie said, "I proudly and humbly accept this award on behalf of myself, students and advisors who have been a part of SkillsUSA at GST BOCES. I want to thank Assemblyman Palmesano and Senator O'Mara for taking the time to award this and to recognize the work of SkillsUSA. I am happy to represent SkillsUSA and GST BOCES across New York State. Every year, I am impressed with the work ethic and skills that the SkillsUSA students bring to the regional and state conferences. The technical trades are an important part of our work force and SkillsUSA helps promote that. I hope to continue to have an impact on all of our students through involvement in SkillsUSA."
GST BOCES administrators and many of Robie's colleagues joined O'Mara and Palmesano to celebrate the award on June 9.
The state Senate and Assembly unanimously adopted the Legislative Resolution (J2486/K537) honoring Robie's SkillsUSA "Advisor of the Year" award early last week. The resolution reads, in part, "Dale Robie has educated students not just academically, but about life lessons such as responsibility, teamwork and hard work…those who enhance the quality of life in their community, and have shown a long and sustained commitment to the maintenance of high standards in their profession, certainly have earned the recognition and applause of all the citizens of this great Empire State."