NEWS FROM THE ASSEMBLY
MINORITY CONFERENCE
For Release: IMMEDIATELY, April 6, 2009
Contact: Joshua Fitzpatrick (518) 455-3751, fitzpaj@assembly.state.ny.us
Brian Kolb Elected Leader of the New York State
Assembly Minority Conference
Pledges to continue building the Assembly Minority Conference and advancing its common sense agenda of a stronger economy, real tax relief and more opportunities for all New Yorkers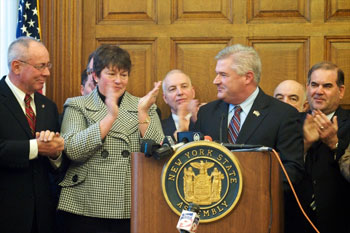 Assemblyman Brian M. Kolb (R,C,I-Canandaigua) is pictured (center) addressing his colleagues and members of the media shortly after having been elected as Leader of the Assembly Minority Conference on Monday. Kolb thanked the Members for their support and pledged to continue advancing the Conference's agenda of providing real property tax relief, growing the economy and providing more opportunities for all New Yorkers. Standing to Kolb's immediate right, is Assemblywoman Dede Scozzafava (R,I,WF-Gouverneur). To Kolb's immediate left, is Assemblyman Jim Conte (R,I,C,WF-Huntington Station).

ALBANY, NY - Assemblyman Brian M. Kolb (R,C,I-Canandaigua) was elected by his colleagues this afternoon to serve as Leader of the Assembly Minority Conference, pledging to work in partnership with his fellow Members to "continue building the Conference and advance its common sense agenda of a stronger economy, real tax relief and more opportunities for all New Yorkers."

Kolb was first elected to the Assembly in a special election back in February of 2000, and has been overwhelmingly re-elected in 2002; 2004; 2006; and 2008, respectively. Kolb represents the 129th Assembly District, which includes Onondaga; Ontario; Seneca; Cortland; and Cayuga counties in Upstate New York.

Prior to his election as Assembly Minority Leader, Kolb served as Minority Leader Pro Tem, leading the Assembly Minority Conference in regular floor debates with the Assembly Majority. Kolb also Chaired the Assembly Minority Task Force on Manufacturing, in addition to serving on the Assembly's Ways and Means; Insurance; and Rules Committees in 2008.

"Serving as Leader of our Assembly Minority Conference is a both an honor and a responsibility. The confidence my colleagues have shown in my leadership will be reflected in a continued effort to ensure our Conference keeps promoting policies that make New York State a better, more affordable place to live, work, raise a family, and grow a small business," Kolb said.

Kolb has extensive private sector experience, having been a business consultant, entrepreneur and chief executive officer of a variety of small and large technology-based businesses. Kolb previously was president of Refractron Technologies and a co-founder of the North American Filter Corporation.

"Having started and run successful small businesses, I fully understand the many obstacles facing employers and entrepreneurs, especially in light of the economic recession that has hit Upstate and Long Island especially hard," Kolb stated.

"I know firsthand that New York has tremendous resources, including a well-educated, dedicated workforce that can compete with any other state, or nation. We need to take the necessary steps to strengthen those resources, as it will spur creation of the next generation of high-quality jobs to keep more of our best and brightest right here," Kolb stated.

"Ever since I became a Member of our Assembly Minority Conference, we have proudly led the fight for a New York State that taxes, spends and borrows less, and, in so doing, puts its citizens first. As Leader, I will continue building our Conference and advancing its common sense agenda of a stronger economy, real tax relief and more opportunities for all New Yorkers," Kolb said.

"Our Assembly Minority Conference will continue serving as the voice of fiscal responsibility and accountability for taxpayers from Buffalo to Long Island. Just as we led the fight against this reckless State Budget that spent, taxed and borrowed too much, we will keep fighting for a government that acts in the best interest of taxpayers, not the special interests," Kolb stated.

"There is no question that New York faces many challenges: our energy, litigation, regulatory, workers' comp and property tax costs are too high. But, as daunting as those challenges are, the opportunities are manifest. New York has a world-class higher education infrastructure and a whole host of innovative entrepreneurs and highly-skilled workers that have managed to compete - and succeed - in the face of immense obstacles," Kolb said.

"My goal as Leader, the aim of our entire Assembly Minority Conference, is to help chart a new course for the 'Empire State,' one that maximizes prosperity and opportunity for all New Yorkers. That is what we are fighting for, and what we will continue working toward, every day," Kolb concluded.

Click here to view a copy of Assembly Minority Leader Brian M. Kolb's official biography.