Contact:
Joshua Fitzpatrick (518) 455-3751
For Release:
April 27, 2009
Assembly Minority Leader Brian Kolb Meets With
Village of Clifton Springs Mayor Bill Hunter, Tours Downtown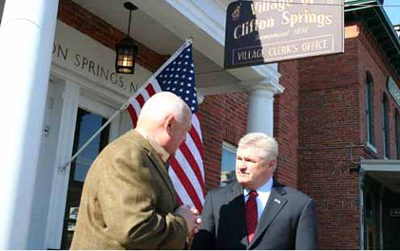 Assembly Minority Leader, Brian M. Kolb, (R,I,C-Canandaigua) is pictured (right) meeting with Village of Clifton Springs Mayor Bill Hunter (left) for a downtown walking tour of the Village. The tour was part of Kolb's continued commitment to listening to local leaders and communities to hear their concerns.
During the tour, Kolb and Hunter stopped in to see local business owners and visited with village residents, constituents and local shoppers who shared their views and concerns with Kolb about the impact of taxes and state government.
Kolb also talked about his commitment to the "People's Agenda," which includes real property tax relief, a stronger economy that creates private sector jobs, safer communities, a quality education and health care reform that puts patients first.