FOR IMMEDIATE RELEASE:
March 26, 2012

General Budget Conference Committee on
SFY 2012-2013 Budget Convened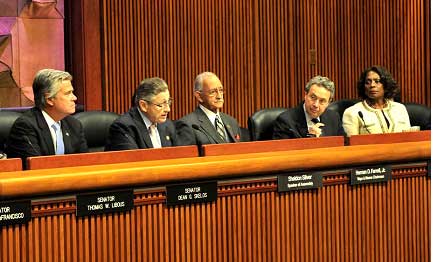 Assembly Speaker Sheldon Silver (second from left) and Senate Majority Leader Dean G. Skelos (first from left) convened the 2012-2013 General Budget Conference Committee to take reports from several joint budget subcommittees.
Silver noted that the Assembly Majority was focused on strengthening our economy through job creation, protecting our children and vulnerable New Yorkers through restorations in human services, and ensuring equal access to higher education through restorations to our community colleges. The Speaker was joined at the bipartisan meeting by Ways and Means Committee Chair Herman D. Farrell Jr., Majority Leader Ron Canestrari and Deputy Speaker Earlene Hooper.