FOR IMMEDIATE RELEASE:
January 7, 2014

Speaker Silver, Governor Cuomo and Vice President Biden
Discuss State's Storm Recovery Efforts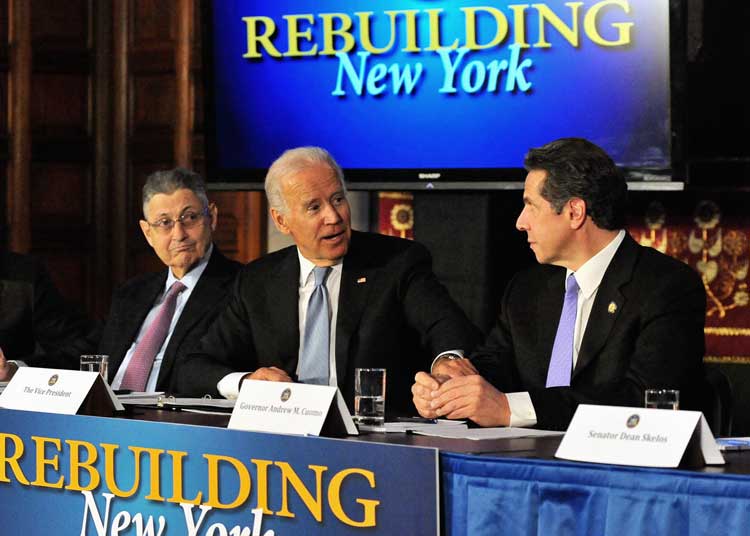 Assembly Speaker Sheldon Silver (left) joined Governor Andrew Cuomo and Vice President Joe Biden (center) for a discussion on New York State's efforts to rebuild communities hard hit by Superstorm Sandy.
Silver welcomed Vice President Biden to the state Capitol during Governor Cuomo's presentation highlighting the state's storm recovery and the various measures being taken to protect the state's infrastructure from future storms.
"We are grateful for the federal funding commitment made to New York to help us recover from the severe and widespread destruction caused by Superstorm Sandy. During our state's time of need, Vice President Joe Biden was among our strongest advocates in Washington. His leadership and the leadership of the Obama Administration is greatly appreciated," Silver said.
Speaker Silver also noted the efforts of Governor Cuomo following the storm, "Governor Andrew Cuomo has truly done a magnificent job of dealing with this crisis, before, during and after the storm hit New York. With his continued leadership and the legendary resolve of New Yorkers, I am confident that we will build back smarter and better than before."
In late October of 2012, Superstorm Sandy brought widespread destruction to many homes and businesses in New York City and Long Island and caused unprecedented damage to the infrastructure of those communities.