Assembly Chamber
Monday, January 13, 2014

Opening Of The 237th Legislative Session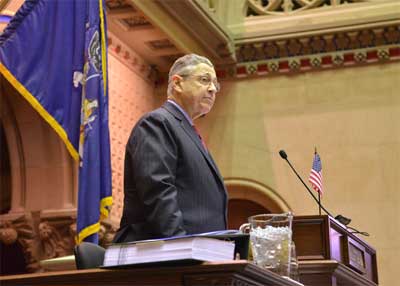 Assembly Speaker Sheldon Silver today delivered opening remarks for the first day of the 2014 Assembly Session. Silver congratulated his colleagues for the legislative successes they achieved last year and outlined some of the house's priorities for the new session, including the passage of an on-time budget, re-building the ladder to the middle-class, expanding universal pre-K and accelerating the timetable for a higher minimum wage.
Majority Leader Morelle. Chairman Farrell. Minority Leader Kolb. Members of both sides of the aisle of the New York State Assembly. Ladies and Gentlemen.
Let us begin this 237th Legislative Session by once again giving a warm welcome to our newest colleagues: Assembly Member Maritza Davila, Assembly Member Victor Pichardo and Assembly Member Anthony Palumbo.
Maritza, Victor, Anthony … we are delighted to welcome you to "The People's House " and we commend your commitment to serve. We look forward to getting to know you and to working with you to complete the work of this session.
To your families and friends who are here today, may I say how delighted we are to celebrate this momentous occasion with you. Welcome.
Also joining us in the Chamber are the men and women of the Assembly Intern Class of 2014. Let's give them a warm welcome as well.
They are accompanied by the Chair of our Committee on Higher Education and the Chair of our Intern Program, Assembly Member Deborah Glick.
Also accompanying our interns is one of our three academic intern advisors.
We are proud to welcome to the chamber Doctor Angela Ledford, who is an Associate Professor of Political Science at the College of Saint Rose.
Welcome Doctor Ledford and thank you for bringing your expertise to our intern program and sharing it with our undergraduate scholars.
The Governor opened his State of the State Address with a review of our accomplishments as a state government over the last three years.
It is a record of achievement we can be proud of, a record for which each and every member of the House can take credit.
In fact, the Governor was quite clear the record would not have been possible without the leadership of the Legislature.
I, for one, have not forgotten the bicameral/bipartisan effort - led by our own Assembly Member Harvey Weisenberg - to restore funding for the developmentally disabled in the current year's budget.
A small thing in a budget of tens of billions of dollars? Not to the developmentally disabled. Not to their families. Not to the men and women who care for our most vulnerable citizens.
There we were, speaking with sincere and heartfelt emotion, with one voice for a small fraction of New Yorkers - men and women, boys and girls - who may never cast a vote but who desperately need a government with enough integrity, enough humanity and enough courage to stand up for a child with special needs and protect his or her quality of life.
It didn't make the front pages, but that was us, ALL OF US.
To me, this is the essence of good government and what makes public service the noble calling that it is and should always be.
The presentation we listened to on Wednesday emphasized jobs and the economy.
Whether or not you agree with the Governor's assessment of the business climate in our state or with his approach to job creation, it is inarguable that there are more private-sector jobs in New York State today than there have ever been before - 7,493,500 - according to the Department of Labor in November of 2013.
Ours is a state that continually nourishes astonishing wealth and innovation, yet a state:
Where homeless shelters are filled to capacity;
Where food pantries cannot meet the demand for sustenance;
Where a dearth of affordable, quality child- and elder-care resources prevents parents from taking or keeping jobs;
Where the hardworking employees of staggeringly wealthy corporations regularly strike for a salary on which they can live;
A state where all of its citizens are not equal and do not have an equal opportunity to become self-sufficient and economically empowered;
Where those who most need the helping hand of government have the least say in its policies.
We must speak for these people now!
New Yorkers have elected a Democratic Majority to lead the People's House.
Our responsibility is to conduct honest, serious discussions about the state of our state;
About our obligations to each other as a civilized and democratic society;
About economic development that is fair and sustainable, and how we foster it;
About the infrastructure investments and the social investments that we must make to ensure the economic security and the well-being of the generations of New Yorkers who will follow us.
It is our intention to work with the Governor, with the Minority and with our colleagues in the Senate to pass a fourth, consecutive, on-time budget.
A budget that builds on the progress we've made, that addresses the weaknesses exposed by Superstorm Sandy and that meets the needs of the working families in all of our Assembly Districts.
Chairman Farrell, as always, we will be counting on you and your team to lead our efforts in this direction.
That being said, we will also continue our efforts to rebuild the ladder to middle-class financial security that defined America for our parents and grandparents.
We will continue our relentless push to increase the state's investment in the children in our classrooms.
Thanks to the momentum generated by Mayor Bill de Blasio, we will take the universal pre-K program that we originally proposed, bolster it, expand it so that every four-year-old in this state can benefit from early education and make it sustainable.
And as we strengthen pre-K to give our children the best start on the road to academic achievement and success, we will also push to increase funding for after-school programs.
These critical programs ensure our children are safe and supervised, and provide students with enrichment that reinforces what they are learning in their classrooms.
We will once again pass the DREAM Act to open the doors of higher education and self-fulfillment to all of our young people, regardless of where they were born.
Let this finally be the year when we open our arms to the thousands of young people who know of no other home than this great country and say to them:
YOU MATTER! WE CARE ABOUT YOUR FUTURE!
We will continue to lead the way in addressing the vast income inequality that plagues our state and our nation.
We will pass legislation to accelerate the implementation of the nine-dollar-per-hour minimum wage, tie future increases to the rate of inflation and repeal the McDonalds/Walmart tax credits. Poverty should never be the reward for hard work.
We continue to pursue our fight to enact all 10 points of the Women's Equality Agenda and if there are points that need to be added to the Agenda, we will do so.
I applaud the Democratic Women of the Assembly and all of their supporters for standing firmly for all ten points.
We will address the child-care crisis in this state by advancing the recommendations of the Assembly's Child Care Workgroup, recommendations such as paid family leave that will strengthen families, provide much-needed supports for working parents and improve the availability and quality of early care for our youngest children.
Let me take a moment to commend Assembly Members Catherine Nolan, Carl Heastie, Michele Titus, Aileen Gunther, Donna Lupardo and Addie Russell for their excellent work on this critically important issue and for giving a voice to working parents throughout this state.
For years, we have led the way on campaign finance reform. We will lead the way again this year.
As we have already made clear, we will fight for a common-sense measure that would move the primary date to June, a move that will save the taxpayers of this state millions of dollars.
In closing, let me express my gratitude to the Chairman of our Ways and Means Committee, Chairman Denny Farrell, for his continuing and masterful work.
Denny, we have every faith that you will lead us to a fourth, consecutive on-time budget that reflects the priorities of this House.
Let me also commend Assembly Member Joe Morelle, for an outstanding first year as Majority Leader.
Joe, we are as fortunate to have you leading our work on this floor as we are to have your friendship and support. We are depending on your leadership to keep us focused on getting the work done in this election year.
My thanks to our Minority Leader, Brian Kolb, for your leadership and for partnering with the Majority Leader to ensure the conduct of our business is dignified.
Brian, I look forward to working with you to bring about another productive legislative session.
Finally, my thanks to each and every member of the Assembly Majority for your patience, for your support, and for your faith and trust in me and my ability to lead this House.
I will not let you down.