Campaign For Summer Jobs Annual Youth Action Day

Well Of The Legislative Office Building, Albany, NY
Tuesday, January 28, 2014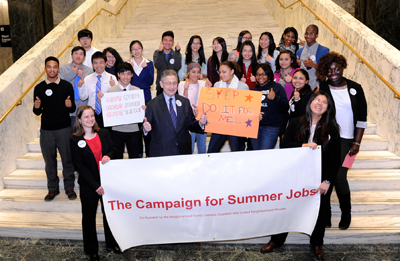 Assembly Speaker Sheldon Silver today addressed the Campaign for Summer Jobs, the Annual Youth Action Day in Albany. Silver said the Assembly would continue its longtime commitment to the program because it provides young people with an employment experience that will be very helpful to their futures. The Speaker also commended the young people for their desire to "earn their way" through summer jobs, which are essential to the operation of day camps, libraries, hospitals, senior centers and recreational facilities across the state.
Thank you, Asamia and thank you, Jabari for your very kind and generous introduction and thank you, members of the Campaign for Summer Jobs, for your warm greeting.
On behalf of the members of the New York State Assembly - the People's House of the Legislature - I welcome you to Albany, the capital of our Empire State.
Not every young person who will need a job this summer is able to be here today. That you have come here to speak for all of them is what real public service is all about. Thank you for taking the time to reach out to your government.
I was born and raised on the Lower East Side of Manhattan, so out of curiosity, let me hear my friends who are here from University Settlement? How about the Chinese American Planning Council?
I am delighted to have people here with me in Albany who understand all of the challenges of growing up in Downtown Manhattan.
I am also a big fan of the Neighborhood Family Services Coalition. Gigi Li is not only a great advocate for summer jobs, she is a terrific leader and the outstanding chairperson of my community board, Community Board Three. Let's give her a big round of applause.
Okay, let's get to the heart of why we're here today, jobs.
We have great respect for everyone who wants to work hard and earn their own way.
Summer jobs provide you with experience that is critical for your futures.
The dollars you earn enable you to support your families and to purchase the clothing and the school supplies that you need.
Summer workers are essential to the operation of our day camps, libraries, hospitals, senior centers and recreational facilities across our state.
I and my colleagues in the Assembly Majority have always stood up for the Campaign for Summer Jobs and we always will.
We fight for working people. We fight for fairness and equity. In fact, we led the fight - and we won the fight - to increase the minimum wage in New York State.
To his credit, Governor Cuomo has proposed increasing state funding for the Summer Youth Employment Program to offset the cost of the higher minimum wage.
That's good, but there are more young people who need summer work than there are summer jobs, so we are going to work hard to increase funding for this important program, but we can't do it alone.
We need you to be our partners. This is your day to be heard but please, don't let it end today. Contact your leaders. Reach out to us. Help us to understand how we can help you.
In return, I promise that I and my Assembly Majority colleagues will continue to speak up for you here in Albany, in the City of New York, and in every city, town and village from the Bronx to Buffalo.
For now, please, enjoy your day in Albany. On behalf of young people throughout the State of New York who will be looking for jobs this summer, thank you for being here.