DC-37 Advocacy Day

Empire State Plaza, Convention Center, Albany, NY
Tuesday, May 6, 2014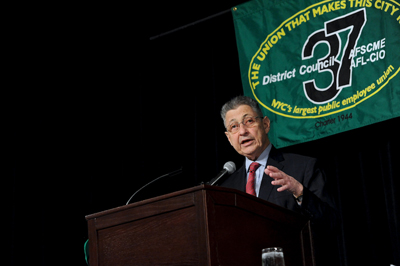 Assembly Speaker Sheldon Silver addressed the DC-37 Advocacy Day in Albany, where he commended the New York City municipal workers union's members for partnering with the Assembly to advance such working men and women initiatives as universal pre-K, a higher minimum wage and child care subsidies.
Thank you, Wanda [Williams] for your generous introduction.
May I say how good it is to have the everyday heroes of DC-37 - my hometown union - here with me today.
Once again, I bring you the greetings of the New York City Assembly Delegation.
As well as our heartfelt thanks for being here to stand up for the members of the strongest, toughest, most productive workforce in the world, the public employees of New York City.
As I always do, may I say what an honor it is to work with your leader - and my longtime friend - the great Lillian Roberts.
And with her excellent team: Eddie Rodriguez, Cliff Koppelman, Maf Misbah Uddin, Henry Garrido and Oliver Gray.
Lillian, it seems we have entered an era when the voices of working people are finally rising above the political fog.
And I believe we are moving toward a time when the middle-class will be revitalized and working families will receive the fairness and the equity they deserve.
When historians look back, they will recall that it was strong, compassionate leaders such as you … who carried the banner of economic justice … and kept hope alive for working men and women throughout the City of New York.
Speaking for myself and my Assembly colleagues, may I say again, what an honor and a privilege it is to work in partnership with you.
I was born and raised in New York City.
I have lived in Lower Manhattan all of my life … raised my family there … and have devoted a good portion of my life to addressing the needs and concerns of my community and my city.
So I know better than most, that DC-37 is the heart and the soul … the muscle and the "know-how" … that makes government work so effectively for the people.
Now, finally, we have a mayor with the courage to take on the income gap in our City, a mayor who believes our children can rise to the heights of economic empowerment through education.
Working with the Mayor and the Governor, the Assembly Majority not ONLY secured $435 million MORE in New York City school aid in the state budget, but an additional $600 million to fund full-day, universal pre-Kindergarten throughout the City.
And I believe … this is just the beginning.
But when it comes to having "FRIENDS" in government, DC 37 cannot do better than your longtime champion here in Albany … Assemblyman Peter Abbate, the Chair of our Committee on Governmental Employees.
He, along with our Labor Committee Chair, Assemblyman Carl Heastie, give New York's working families and public servants a strong and influential voice in our state government … and I hope you appreciate their loyalty and hard work as much as I do.
Over the years, the New York City Assembly Delegation - working with Lillian Roberts and DC-37 - has achieved a great deal in difficult times.
In addition to GREATER investment in our school children, we have won a significant middle-class tax cut … an INCREASE in the minimum wage … STRONGER tenant protections … GREATER child-care subsidies … and more tuition assistance for those who wish to pursue higher education.
We continue to support pay equity and OPPOSE the privatization of public services.
You KNOW where we stand. We stand with YOU.
Now, as we face a city experiencing a population boom, the pressure on our public employees to maintain, protect and serve a greater and greater number of citizens will be challenging to say the least.
So, I and my colleagues in the New York City Delegation are ready to work with you and all of the hardworking members of DC-37 … to ensure that you have all of the rights, the protections, the benefits and the APPRECIATION that you have earned.
In closing, let me say this: Do not let the opportunity pass you by.
Make the most of your day here in Albany.
Keep speaking up. Keep on fighting. Keep up the good work … and let's make sure that our working families can continue to thrive and prosper in our great City of New York.
Thank you.