Asian Heritage Month Celebration

The Well Of The Legislative Office Building
Tuesday, May 6, 2014 [12 PM]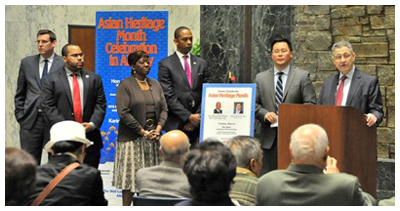 Assembly Speaker Sheldon Silver (at podium) addresses Asian Day in Albany, joining with members of the Asian community from around the state in celebration of their heritage. Also participating in Asian Day were (From Left) Assemblymembers Edward Braunstein, Victor Pichardo, Crystal Peoples-Stokes, Walter Mosley and Ron Kim, the first Korean-American to serve in the Assembly, who Silver commended for his advocacy on behalf of children, schools and vulnerable communities.
Good afternoon and welcome to our celebration of Asian Heritage Month. We are delighted that you are here with us today.
In the State of New York and especially in our government, we honor our immigrant heritage and we respect our cultural diversity.
We do this because we know that improving the lives of all our children and ensuring them the brightest of futures requires that we embrace the ideas, the energy, the values and the work ethic of the Asian community and every community that sets down roots in our great Empire State.
Let me take a moment to acknowledge the bright and charismatic young leader who is primarily responsible for bringing about this special celebration.
Assembly Member Ron Kim of Flushing, Queens is the first Korean-American ever elected to the New York State Legislature.
What a terrific young leader he is becoming!
Having dedicated himself to a life of public service, Ron was elected to represent the 40th Assembly District in 2012.
In his first term, Assembly Member Kim has proven himself to be a fierce and sharp-minded advocate for the children in our classrooms and for the most vulnerable in our communities.
He is a well-respected member of the Assembly Democratic Conference and I have no doubt, he will be a bright and shining star in our government for many years to come.
Let me also express my appreciation to all of the sponsors of our Asian Heritage Celebration:
The New York State Black, Puerto Rican, Hispanic and Asian Legislative Caucus and its Chairman, Assembly Member Karim Camara;

The AARP and the North Shore-Long Island Jewish Health System;

As well as our many community sponsors.
As some of you know, I am Speaker of the Assembly, but I am also the assemblyman who represents much of Lower Manhattan, which includes Chinatown.
Every day, I am working with great human service agencies, such as the Chinese American Planning Council, the Asian Americans for Equality, and the Chinese Consolidated Benevolent Association to improve the quality of life for immigrant families and to ensure fairness, justice and opportunity for all New Yorkers.
What we work together to accomplish in Lower Manhattan, Ron Kim and I and all of our Assembly Majority colleagues are striving to realize here in Albany and across our state every day, because we believe that all New Yorkers should have the same access to our government and the same access to our health and education systems, no matter their ethnicity or the language they speak.
This is what Democracy is all about and achieving the "ideal" requires that we work together to educate and to advocate.
So again, I thank all of you for being here and for representing all of the members of the New York's Asian American community who could not be here today to speak for themselves.
Please make the most of this day in Albany that you have and know that you have real friends in the New York State Legislature.
We are here to work for you. Thank you. Enjoy the day.