FOR IMMEDIATE RELEASE:
May 19, 2014

Legislative Disabilities Awareness Day 2014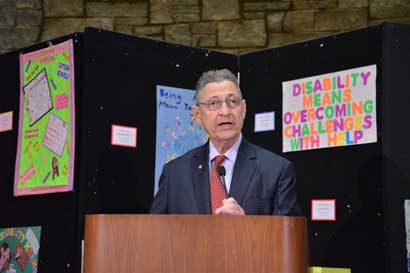 Assembly Speaker Sheldon Silver today addressed the annual Legislative Disabilities Awareness Day in Albany. Silver, who co-sponsored the event with Assembly Minority Leader Brian Kolb, noted the Assembly today would consider and approve a 12 bill package that aims to protect individuals with disabilities from discriminatory practices.
Silver also was joined by the Assembly Taskforce on People with Disabilities Chair David Weprin and Mental Health Committee Chair Aileen Gunther. Other Assembly members who also participated in the event are Michael Cusick, Thomas Abinanti, Phillip Steck and Ranking Minority Member of the Mental Health Committee Assemblyman Steve Katz.
The Assembly's annual observance of Disabilities Awareness Day includes a statewide poster contest involving elementary students who submit artwork to educate and raise awareness about the challenges people with disabilities face daily.