Announcing Impending Passage Of The Dream Act

Speaker's Conference Room, Albany, NY
Thursday, February 26, 2015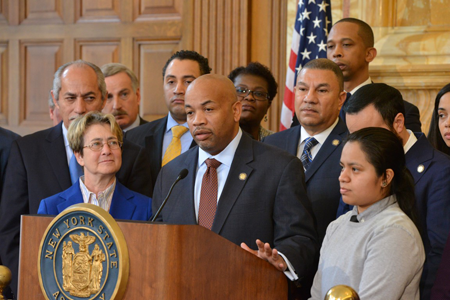 Assembly Speaker Carl Heastie held an afternoon news conference at the Capitol today to announce the Assembly's expected passage later in the day of the DREAM Act. Heastie called on the Senate to pass the DREAM Act and join the Assembly in eliminating barriers to higher education for immigrant youth.
In households from the Bronx to Buffalo, parents preach the importance of hard work and higher education to their children.
When our children reach college age, families quickly discover that the American Dream is as much about "affordability" as it is about "work ethic."
Recognizing that higher education is the pathway to self-sufficiency and economic empowerment, this state created programs such as TAP and EOP to help students enter and move forward on this pathway to success.
When we make these programs available to young men and women who were BORN here, it's called an "investment."
When we WANT to make these programs available to young men and women who were BROUGHT here, it's called "a fiscal burden."
I call it discrimination.
That is why I am proud to announce that for the 3rd consecutive year, the Assembly Majority will reaffirm our longstanding, unwavering commitment to educational opportunity for ALL New Yorkers as we prepare to take up and pass the DREAM Act later this afternoon.
For those of you who may be unfamiliar, the DREAM Act would level the playing field for our foreign-born students by granting them eligibility to apply for state funded grants and scholarships … and it would create a private scholarship fund to help these students afford the cost of higher education.
Every study says that the more education and training that you have, the more opportunity becomes available to you. What's happening today?
Today, we have a historic number of jobs and companies who cannot find skilled workers to fill those jobs. We have young people who want to attain those skills and a higher education system that is becoming less and less affordable every day. We have graduates who are struggling under the impossible burden of their student debt.
Not surprisingly, we have families and students - particularly those living in low-income communities and communities of color - who are losing hope of ever having the chance to earn a degree.
When we close the door to opportunity and hope, we open the door to much more costly challenges such as poverty and homelessness.
This is why I advanced the Higher Education Road to Success Initiative.
This is why I made the DREAM Act a key component of that initiative.
Because our children are our most important resource and therefore, we should be building the bridges that connect them to education and to skills training … and to the hope and opportunity that follows them.
I am pleased that the Governor included the DREAM Act in his Executive Budget submission.
We will work with him to give all New Yorkers - including our DREAMers - access to the education they need and deserve …
And to ensure that the new New York is the just and inclusive place it should be.
As you can see, a number of my Assembly colleagues are here in support of the DREAM Act, including:
The lead sponsor of our legislation and the champion of the DREAM Act in New York State, Assembly Member Francisco Moya of Queens;
And the Chair of our Committee on Higher Education, a longtime and effective advocate for our students, Assembly Member Deborah Glick.
We are grateful to be joined by:
Mario Cilento, President of the New York State AFL-CIO;
Hector Figueroa, President of SEIU 32 BJ;
Make the Road NY
And we have a very special guest with us, Ms. Zuleima Dominguez, a student from Manhattan Community College who is here today representing the DREAMers across our great state.
Now, it is my honor to introduce Assembly Member Francisco Moya.