FOR IMMEDIATE RELEASE:
July 12, 2107

Speaker Heastie Visits Growing Technology Companies
In Syracuse on First Stop of Statewide Regional Tour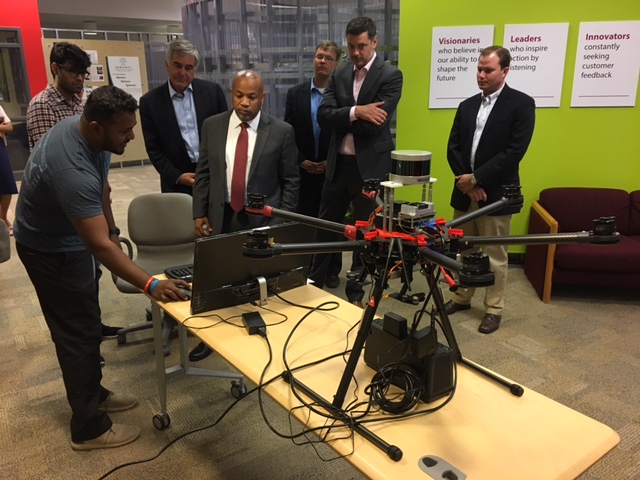 Pictured with Speaker Heastie in first photo (left to right): Sasi Viswanatnatnan, CEO of Acrobatics; Assemblymember Stirpe; Robert Simpson, president of CenterState; and Jonathan Parry, director of GENIUS NY.
Assembly Speaker Carl Heastie joined Assemblymember Al Stirpe in Syracuse today for the first stop of a statewide regional tour of New York this summer to learn about the challenges unique to each part of the state. Heastie and Stirpe today visited the home to more than 70 virtual and resident technology members, CenterState CEO's Tech Garden, which has a history of hosting business competitions and accelerators that have helped grow many successful companies. The State has also invested in the success and growth of the Tech Garden, most recently through a $100,000 investment to establish the Tech Garden's "DevBox," a program that helps tech startups get their businesses off the ground.
"Visiting New York's upstate communities allows us the opportunity to explore what every region has to offer and address the challenges they face on a day-to-day basis," said Heastie. "Today's visit offered a glimpse into a number of growing industries that we are fortunate to have developing right here in central New York. These companies represent not only amazing employment opportunities, but also address critical issues we face in our state related to safe drone operation and infrastructure inspection."
"Central New York is home to many developing technology companies that will undoubtedly help shape the economic future of the region and provide critical technology and services to the state and beyond," said Stirpe. "Speaker Heastie's visit reassures us that upstate New York communities are and will continue to be a priority as we consider the future of the legislative agenda in Albany." Central New York was selected as one of six test sites to advise the federal government on how Unmanned Aircraft Systems (UAS), or drones, can be safely integrated into the National Air Space. Since its selection, the region has welcomed many new UAS focused companies to the area.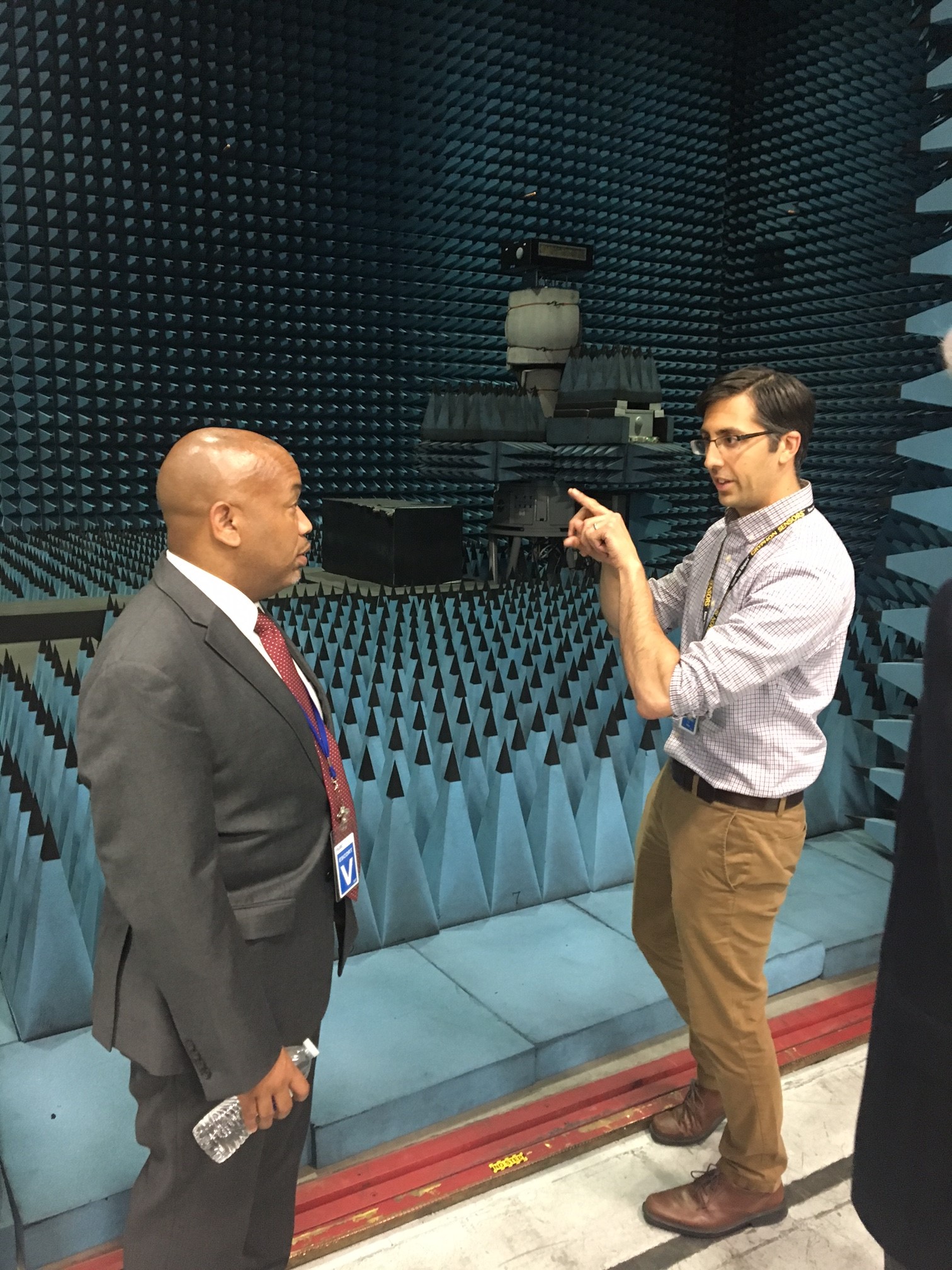 Pictured with Speaker Heastie in second photo: T.J. Vital, employee, Gryphon Sensors sound proof testing chamber.
At the Tech Garden, Heastie and Stirpe met with the GENIUS NY teams. GENIUS NY, a business accelerator program located in the Tech Garden, is funded through a $5 million grant from New York State's Empire State Development. Earlier this year, GENIUS NY awarded its top prize of $1 million to AutoModality, a company that creates autonomous mobile systems for close-up inspections using drones.
Technology developed at AutoModality enables automated drones to perform close-up infrastructure inspection, especially in areas that are particularly challenging to navigate such as bridges, buildings and power lines, making inspections more safe and thorough. Started in San Francisco, AutoModality now has a second location in Syracuse where they are continuing to develop their Small Unmanned Aerial Systems technology. During today's visit, Heastie and Stirpe watched a demonstration of AutoModality's software and sensing products as they conducted an inspection of Gryphon Sensors headquarters. Gryphon Sensors, also located in central New York, specializes in developing sophisticated systems to detect, track and identify low-altitude, small unmanned aircraft systems, birds and other hard-to-detect airborne traffic. As drone technology continues to develop and become more present in our daily lives, Gryphon Sensors is creating technology and solutions to ensure safe automated drone operation and protect critical infrastructure.
"This is an exciting time for our region as we build and execute a comprehensive strategy to strengthen our global leadership position in the unmanned systems sector," said Robert Simpson, president of CenterState CEO. "Soon, the region will be home to the nation's largest and most comprehensive 50-mile operational UTM corridor that will enable the next evolution of unmanned civil aviation, a showcase of our region's assets, resources and capabilities. GENIUS NY, the world's largest business accelerator competition for unmanned systems, is creating jobs and new opportunities for companies in this space. And with a wealth of existing private sector expertise, broad industry partnerships, and an FAA-designated test site in the region, Central New York and the Mohawk Valley are positioned well to capture a piece of the $140 billion global marketplace for this sector."