FOR IMMEDIATE RELEASE:
October 20, 2017

Speaker Heastie Joins Assemblymember Skoufis
On Tour of Half Day Kindergarten Class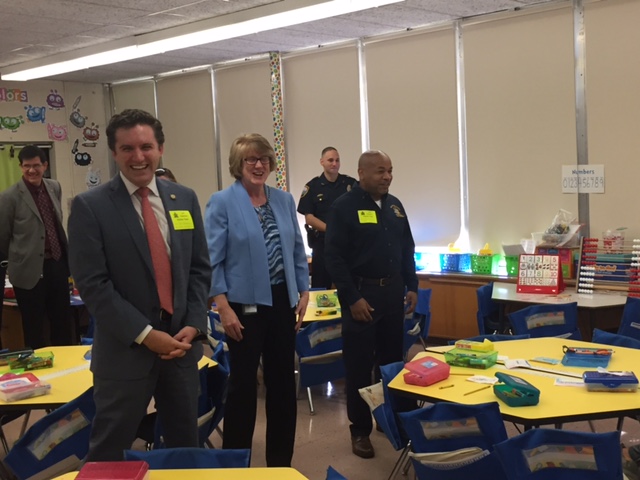 Photo at Taft Elementary School: Assemblymember James Skoufis, Taft Elementary School Principal Barbara Quinn and Speaker Carl Heastie.
Assembly Speaker Carl Heastie today joined Assemblymember James Skoufis in Washingtonville to visit a half day kindergarten class and tour the site of an elementary school expanding to prepare for full day kindergarten.
"Full-day kindergarten gives children a head start and allows them to grow and thrive," said Speaker Heastie. "The students we met today were lively and excited to learn. We want to make sure we are preparing them for the best possible future. I want to thank Assemblymember Skoufis for his commitment to expand full day kindergarten to every child in the state."
"I want to thank Speaker Heastie for spending time in Washingtonville. Ensuring all children receive the fundamental building blocks of an early education has been a top priority of mine and I am thrilled Speaker Heastie shares that commitment," said Assemblymember James Skoufis.
There are six school districts remaining in New York that currently do not have full day kindergarten for five and six year olds. Washingtonville is one of two districts in the 99th Assembly district that does not have enough funding or facilities to house full day kindergarten classes. Assemblymembers Skoufis and Ken Zebrowski sponsored legislation that would provide enough funding to get these schools' kindergarten classes in line with the rest of the state.
In July of this year, the Assembly secured an agreement with Governor Cuomo to provide funding in next year's state budget to support remaining districts' transition to full-day kindergarten. This follows years of advocacy by the Assembly Majority in an effort to ensure all students in all zip codes receive a full, comprehensive kindergarten education.