---
UNUM
Portland, ME-based Union Mutual (later, UNUM), primarily a disability insurance company, demutualized in 1986. Although there was a statute in place at the time, UNUM, partly under pressure from New York and other regulators, distributed $652.1 million, the company's book value at the time, to its policyholders in exchange for their membership interests. The stock traded initially at $25.50 per share, and traded at $55 ¼ on March 26, 1998.
Equitable Life Assurance Society

New York-domiciled Equitable Life Assurance Society of the US (ELAS) announced plans to demutualize in December 1990. The SID held a three-and-one-half hour public hearing on the plan on in April 1992 and in May of that year, ELAS announced the results of the policyholder vote: of 883,338 votes, 92.3% approved the plan. Later that month, the SID approved the plan and two weeks later, ELAS made its preliminary SEC filing. When the IPO was concluded, Equitable sold 50 million shares to raise $450 million. In terms of the policyholder distribution, $225 million in cash and stock (100 million shares) was distributed to about 1.7 million policyholders and over 400,000 annuity contract holders received "policy credits" or enhancements valued at $46 million, because of tax problems associated with stock or cash transfers. As of March 26, 1998, ELAS stock was trading at almost $59 ¾ per share after an initial offering at $9.
Farm Family
Glenmont, NY-based Farm Family (FF), an insurer established by Northeastern U.S. Farm Bureaus, demutualized in 1996. FF converted to a stock company in July 1996 after 93% of the 24% of eligible policyholders actually voting approved the plan. Eligible mutual policyholders' (those who purchased policies within the past three years) distributions were calculated according to the total premiums paid by a policyholder over the total of premiums paid by all policyholders during that period. The distribution to about 120,000 policyholders included $11.7 million in cash (mostly to those policyholders receiving less than 25 shares), and 2.2 million shares of stock at $16 per share, for a value of over $35 million. FF also offered preemptive subscription rights to policyholders who used those rights to purchase another 214,000 shares of stock. FF's net proceeds from the issuance of over 5 million shares was about $41 million and the cost of the transaction (including over $100,000 for the mailing) was $1.5 million. As of March 26, 1998 FF stock was trading at almost $37 ¾ per share.
Mutual of New York (MONY)
MONY, a venerable NYC-based mutual life insurer which sold the first mutual life insurance policy in the nation in New York 1843, surprised industry insiders with its announcement in September 1997 of a plan to undertake a full demutualization. The company, with over 900,000 policyholders and $1.168 billion in surplus, hopes to complete its reorganization by the fourth quarter of 1998.
Prudential
The nation' s largest life insurer with $12 billion in surplus and over $178 billion in assets, the Prudential Insurance Company of America announced plans to demutualize on February 12, 1998. Prudential CEO and Chairman Arthur F. Ryan said: "In exploring conversion to a stock company, we have carefully considered all of the options available to Prudential in order to determine which would be the most beneficial to our customers. We have concluded that our policyholders would benefit most from a full demutualization. Such a move would distribute the full value of the company to eligible policyholders and, at the same time, maintain their insurance benefits.
Standard Insurance Company
Standard Insurance Company, the largest mutual insurer in Oregon with $4.5 billion in assets and among the top 25 mutuals nationally, announced plans to demutualize in December, 1997. In a statement, company officials praised the organizational flexibility and easier access to capital demutualization would bring, and estimated that policyholders would could receive upwards of $500 million through the eventual distribution of surplus. In a December 17, 1997 Bloomberg News Service article on the announcement, Standard President and CEO Ronald Timpe, said: "We decided it would be in the best interests of our policyholders to go all the way and operate like a true stock company rather than like a hybrid, where there can be conflicts between the interests of policyholders and investors.
State Mutual Life Assurance Company of America
Massachusetts-based State Mutual approved a reorganization plan in February 1995. The company, with $16 billion in assets at the time, $2.1 billion in annual premiums and $700 million in policyholder surplus, distributed the entire surplus to policyholders.
Canadian Companies
Canada's four largest mutual life insurers, Manufacturers Life, Sun Life Assurance, Mutual Life of Canada and Canada Life Assurance Company, announced plans to pursue demutualizations in 1997 or early 1998.
---
---
ATTACHMENT C
Witness List for NYC and Albany Public Hearings on Mutual Holding Company Legislation
New York City
1. Neil D. Levin, Superintendent, NYS Insurance Department
2. Greg V. Serio, First Deputy, NYS Insurance Department
3. Peter Flanagan, President, LICONY
4. Wolcott Dunham, Esq., Debevoise & Plimpton
5. Howard Atkins, Exec.VP/CFO, New York Life
6. Joseph Reali, Senior VP, Metropolitan Life
7. Hon. Mark Green, NYC Public Advocate
8. Jason B. Adkins, Dir., Center for Insurance Research
9. Ralph Nader, Center for Study of Responsive Law
10. James Hunt, Consumer Federation of America
11. Harry P. Kamen, Chairman/CEO, Metropolitan Life
12. J.F.X. Mannion, Chairman/CEO, Unity Mutual
13. Joseph Masella, Exec. VP, Unity Mutual
14. Carlos Portes, Portes Group
15. David Schiff, Editor and Publisher, Schiff's Insurance Observer
16. Herbert Kurz, Chairman/CEO, Presidential Life Insurance Company
17. Guy Ducharme, Consultant
18. Richard G. Clemens(1), Esq., Sidley & Austin
19. Mary Griffin(1), Insurance Council Charles Bell1, Program Manager Consumers Union
20. John R. Hurley(1), VP The Guardian
Albany
1. Russ Haven, Legislative Counsel NYPIRG
2. Richard Kirsch, Exec. Dir., Citizen Action of New York
3. Hon. Betsy McCaughey Ross, NYS Lieutenant Governor
4. Art Swift, Research Associate, NYS Lieutenant Governor's Office
5. Benjamin Y. Brewster, Jr., CLU, Dir., Government Affairs Life Insurance Underwriters of NYS
6. Robert Miller, Regional VP, Life Insurance Underwriters of NYS
7. Wayne Roberts, VP, Wayne Roberts Associates, Inc
8. Hon. Neil D. Levin, Superintendent, NYS Insurance Department
9. Greg V. Serio, First Deputy Superintendent, NYS Insurance Department
10. Hon. Timothy S. Carey, Chairman, NYS Consumer Protection Board
11. Seymour Sternberg, Chairman/CEO, New York Life
12. Howard Atkins, Exec. VP/CEO, New York Life
13. Wolcott Dunham, Esq., Debevoise & Plimpton
14. Daniel B. Walsh, Pres./CEO, Business Council of NYS
Chris Pugliesi, Staff Member Business Council of NYS


(1) Submitted written testimony
---
---
---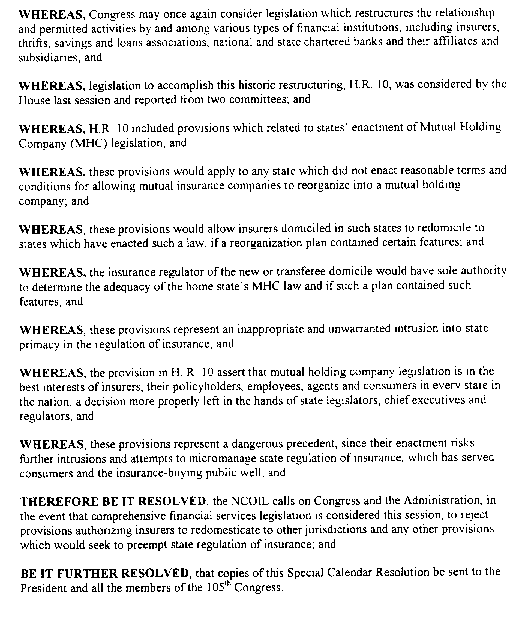 ATTACHMENT E
Policyholders' Voting Percentages in their Mutual Insurance Company's
Annual Meeting for 1996
| | | | |
| --- | --- | --- | --- |
| | Policyholders(1) | Votes | % Voting |
| Columbian Mutual Life | 275,459 | 11 | .004 |
| The Guardian | 633,659 | 140 | .02 |
| MetLife | 11,327,000 | 40,449 | .36 |
| Mutual of America | 320,440 | 195 | .06 |
| Mutual of New York | 1,110,000 | 6,533 | .59 |
| New York Life | 3,701,200 | 1,341 | .04 |
| Phoenix | 1,508,093 | 17(2) | .001(2) |
| Security Mutual Life | 138,969 | 16 | .01 |
(1) Includes individual life, individual annuity, group life, and group annuity.
(2) These figures are for Phoenix Home Life's 1997 annual meeting.
---