Assembly Energy Committee Holds Hearing
on December Ice Storm Power Outages
Hearing focused improvements to preparation, response and recovery
efforts to lessen the impact of future storms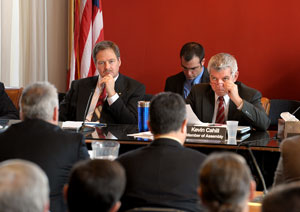 While the excitement at one end of the Capitol was the selection of Kirsten Gillibrand as the new U.S. Senator from New York, at the other end the Energy Committee of the State Assembly took over seven hours of testimony on the ice storm that devastated her Congressional District and beyond.
Assemblymember Kevin Cahill (D - Ulster, Dutchess), Chair of the Assembly Energy Committee, held a hearing on the power outages caused by the ice storm on December 11, 2008. The storm resulted in over 1.39 million customers in the northeast being without power for prolonged periods, some upwards of ten days to two weeks. Assemblymembers Timothy Gordon, Peter Lopez and Tony Jordan, who along with Chairman Cahill are representatives of the areas impacted by the storm, participated in the hearing.
"The purpose of this hearing was to examine what factors contributed to the severity and durations of the outages so we can better prepare for the future," said Assemblymember Kevin Cahill. "It is critical that the State, utilities, local governments and emergency responders identify what worked and what didn't so we can best mitigate power outages and improve communication during the next storm."
"The 2008 ice storm was dangerous and deadly," said Assemblymember Timothy Gordon (I, D, WF - Columbia, Greene, Rensselaer, Albany). "It is essential we discuss steps that can be taken so that we can become better prepared."
"Today's hearing was very insightful and necessary," said Assemblymember Peter Lopez (R - Ulster, Columbia, Greene, Otsego, Delaware, Schoharie, Chenango). "I am hopeful that the comments advanced today will give us a better ability to head off future events and improve our ability to respond to the needs of our families who may be at risk."
"Disasters happen all the time. This hearing focused on the important issue of how all sectors - the government, non-profits, the private sector, and utilities - can work together so effects are minimized," said Gary Striar, CEO of the American Red Cross. "The Red Cross is please we were able to shelter people from the cold in thirteen counties during the ice storm."
Representatives of the Public Service Commission and the State Emergency Management Office testified on behalf of the State. New York State Electric and Gas, Central Hudson Gas and Electric, National Grid and representatives of the International Brotherhood of Electrical Workers (IBEW) answered questions about their preparation, response and recovery efforts, as well as day to day operations that had an impact on the duration and severity of the outages. Finally, the Chair of the Columbia County Board of Supervisors, representatives of the American Red Cross and the Schenectady County Emergency Management Office provided a local perspective of the storm's impact and relief efforts.
"I greatly appreciated the willingness of all the entities involved in their efforts to help improve disaster response and recovery efforts, especially the American Red Cross, the backbone of our relief system," Mr. Cahill concluded.