Assemblyman Ortiz cosponsored two public hearings, in Albany and New York City, and a roundtable discussion at Cornell University to examine emerging food-related animal health diseases, including Mad Cow Disease (i.e., Bovine Spongiform Encephalopathy or BSE) and Foot-and-Mouth Disease (FMD). The outbreak of these two diseases in Europe has raised concerns in the United States.
In the 1980s, researchers found that cows contracted BSE from eating animal feed contaminated with animal parts. Animal feed was often mixed with discarded animal parts as an inexpensive way to boost the protein content. In addition to animal health problems, BSE has been linked to a new variant of Creutzfeldt-Jakob Disease (vCJD), a fatal neurological disease in humans, which has killed nearly 100 people in the United Kingdom (UK). vCJD is believed to be caused by eating beef products that were infected with certain proteins — called prions — that also cause BSE in cows. The problem prions survive heating and other treatments that usually sterilize potentially contaminated products such as meat, feed and even surgical instruments.
FMD is a highly communicable viral disease that affects cloven-hoofed, cud-chewing animals, such as cows, pigs, sheep, and deer. It causes painful lesions in the mouth and on hooves. It also affects milk and meat production. Because the virus can live on humans, vehicles, hay, feed, water, and even be spread through the air, FMD is extremely difficult to control. FMD spreads so widely and rapidly that it is the most dreaded animal disease faced by farmers.
Over the last 10 years, millions of cattle have been destroyed to prevent the spread of BSE in Europe. During the past year, FMD outbreaks have also led to the destruction of millions of cattle and sheep in Europe, mainly in the UK. Although BSE, FMD and vCJD have spread from the UK to other European countries, there are no known or suspected cases of BSE or vCJD in the US to date, and there have been no cases of FMD here since 1929. FMD is not considered a threat to human health, and there is no link between BSE and FMD other than their presence in animals. However, both diseases are a serious potential threat to animal agriculture in New York and the rest of the country.
The hearings were held to address public unease about FMD, BSE and vCJD. The potential for FMD to dramatically affect New York's animal agriculture industry is great. There is often confusion about the differences between BSE and FMD. Questions have been raised, in relation to these diseases, about the safety of animal feed, food, blood, human organs, surgery, autopsies and other potential routes of disease transmission. Many believe that prevention and public education efforts here need to be improved.
Several witnesses testified that more testing of cows and further restrictions on animal feed would be beneficial to help protect New York agriculture and the food supply. Others, including State officials and agricultural organizations, assured the panel that federal and State regulatory efforts were adequate to protect farmers and consumers.
Assemblyman Ortiz believes more needs to be done, especially to prevent BSE. He wrote to President Bush calling for an expanded federal ban on the use of animal parts in animal feed. Great Britain has banned the use of all mammalian animal parts in animal feed, while the US bans the use of most mammalian parts in ruminant feed. Ortiz feels the US approach relies too heavily on correct labeling and record-keeping to make sure the right feed is given to the right animals. The hearing revealed that implementation of these federal rules can be inconsistent.
In the absence of federal action, Ortiz introduced legislation, A.7931, that would authorize the NYS Department of Agriculture and Markets to establish a program to certify feed mills and farms that did not produce or use feed containing any animal parts including meat, bone, blood, gelatin and any other potentially risky components. The animals from those farms — and food produced from those animals — could also be certified. The McDonald's Corporation recently asked its meat suppliers to certify that no meat and bone meal were fed to their cattle. A State certification program would allow restaurants, stores, schools and consumers to identify meat and other foods that meet standards as strict as or stricter than the UK and McDonald's. This program would enable our farmers to successfully market their meat products to concerned consumers here in New York State, around the country and overseas.
The Task Force Chair also called for more BSE testing of cows here in New York as a demonstration project at Cornell University. However, Assemblyman Ortiz discovered that Cornell's Animal Disease Diagnostic Laboratory would not meet the standards for performing these tests because its labs need to be upgraded and such projects require increased funding. He called on the Governor to increase support for the Cornell lab, so it could contribute to testing and monitoring all emerging diseases. Now that bioterrorism is a threat, these improvements are more important than ever. Ortiz also urged federal and State health officials to increase monitoring of CJD cases to assure New Yorkers that the food-related vCJD will not affect us.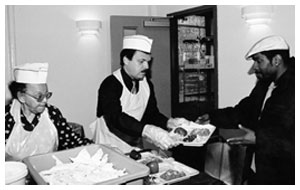 Assemblyman Ortiz serves meals at the Holy Apostle Soup Kitchen on Hunger Awareness Day