The following bills are part of the Task Force's efforts to develop programs and legislation which benefit New York consumers, producers, and marketers of food, and provide oversight of State and federal food, nutrition, and agricultural programs. Our Farm-to-School bill was signed into law as Chapter 2 of the Laws of 2002. We had several bills pass the Assembly, two of which also passed the Senate and will be sent to the Governor.
Passed Assembly and Senate
A.5166/S.6606 (Ortiz) Farmworker Building Tax Exemption — Provides a real property tax exemption for qualifying farm or food processing labor camps or commissaries; such structures must meet applicable standards set by the departments of Health and Labor and the State Building Code. Once an exemption is granted no renewal is necessary unless the structures are no longer in compliance with the standards.
This bill would address two important societal goals, improved facilities for farmworkers and their families and tax relief for farmers who build or improve those facilities. Some farmworker housing and other facilities provided by farmers for workers have been criticized for not meeting health, safety and building code standards. At the same time many farms in New York are faced with high costs and low prices for commodities making it difficult for farmers to stay in business let alone make improvements to real property.
A.10216a/S.7135b (Ortiz) Simplified Food Stamp Application — Directs the Office of Temporary and Disability Assistance (OTDA) to develop a simplified application form for the Food Stamp program. OTDA will develop the form in cooperation with Food Stamp outreach organizations, with a goal of reaching as many potential applicants as possible. The form shall be piloted in one social services district by October 1, 2002, and expanded to all districts by June 30th, 2003.
Food Stamp benefits are a work support helping struggling households, and seniors, succeed on the lower incomes they receive in entry-level jobs. These families are often relying on volunteer-run food pantries for food in record numbers when they could be spending federal benefits at local food stores and farmers' markets. It is estimated that close to $1 billion in federal Food Stamps would flow into New York's economy if all eligible households participated.
When families, individuals and eligible seniors do apply for Food Stamps they are faced with a lengthy application that asks many unnecessary questions not required by law. This often discourages applicants who are busy trying to get ahead in the workplace and don't have time to follow through.
Passed Assembly
A. 746/S.536 (Cook, Ortiz) Farm Travel Guides — Authorizes the Commissioner of Economic Development and the Commissioner of Agriculture and Markets to devise a program to promote and distribute statewide and regional guides to farms, farmers' markets and agri-tourism sites.
A.747/S.7568 (Cook, Ortiz) Kitchen Incubators — Establishes a kitchen incubator/shared-use kitchen facility program within the Urban Development Corporation to provide grant funding for the development or expansion of such facilities for services such as food production, technical assistance, business management and marketing, distribution, storage and retailing assistance.
A.820/S.1255 (Cook, Ortiz) Weight Loss Services — Requires persons selling or offering to sell weight loss services or weight loss products to provide consumers with a weight loss and dieting information notice.
A.2760/S.4054 (Cook, Ortiz) Food Safety — Requires the creation of an advisory board within the Department of Agriculture and Markets on food safety and inspection programs to advise the commissioner on enforcement of laws and regulations and make recommendations for changes.
A.4089b/S.4854b (Ortiz) School Food Donations — Directs the Commissioner of Education, in cooperation with the Commissioner of Health, to facilitate a program to coordinate the donation of excess, unused food from schools to food assistance programs.
A.7002/S.4308 (Ortiz) School Breakfast Incentives — Authorizes the Commissioner of Education to establish the school breakfast incentive program to provide grants to eligible schools that increase participation in the school breakfast program by removing barriers to participation.
A.7939a/S5451a (Ortiz) Childhood Obesity Prevention Program — Establishes the childhood obesity prevention program within the Department of Health to prevent and reduce the incidence and prevalence of obesity in children and adolescents.
New Bills
A.9284b/S.5706b (Ortiz) Air Temperature Standards for School Kitchens — Authorizes the Commissioner of Labor to promulgate rules and regulations establishing air temperature, ventilation and filtration standards and cooling requirements for school cafeteria kitchens.
A.10174 (Ortiz) Genetically Engineered Plants — Requires persons who sell or distribute genetically engineered plants, planting stock or seeds to provide written instructions to purchasers or growers of such stock on preventing cross-contamination with nearby plants.
A.10229 (Ortiz) Dietary Supplements and School Employees — Provides that coaches and other school employees shall not provide or suggest the use of certain dietary supplements to students.
A.10230 (Ortiz) Dietary Supplements Information — Requires marketers of dietary supplements which make certain claims to have competent and reliable scientific evidence to substantiate the claims.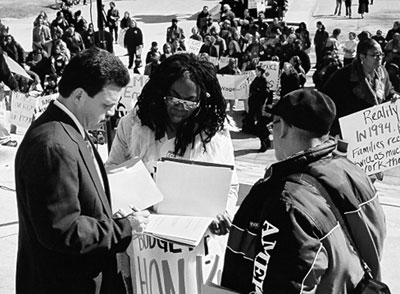 Assemblyman Ortiz meets with advocates pushing for an increase in minimum wage and improvements to the Food Stamp program.

A.10270 (Ortiz) Dietary Supplements Steroids — Includes within the definition of anabolic steroids certain substances which are defined as dietary supplements.

A.10431 (Ortiz) Farm Purchases by Schools — Removes certain restrictions regarding the purchase of food items from farms by school districts.