A Hard Day's Work Should Equal a Fair Day's Pay:
Assembly urges governor and Senate to enact long-awaited minimum wage increase
The gap between the richest 20 percent and the poorest 20 percent of families with children is wider in New York than any other state
For years, many hard-working New Yorkers have struggled to make ends meet while working a job that pays minimum wage. These people have families to feed, children to send to college, and bills that need to get paid. Unfortunately, the state's minimum wage has failed to keep pace with inflation, leaving many families in poverty.
Since 2000, the Assembly has sought to raise the minimum wage, but the governor and the Senate failed to help hard-working New Yorkers (A.10080 & A.5132-A). And this year, the Assembly yet again introduced legislation to raise the minimum wage incrementally to $7.10 per hour so that New York families could begin to receive the wage they deserve (A.9710).
The legislation would increase the state minimum wage to $6.00 per hour on October 1, 2004; $6.75 an hour on July 1, 2005; and $7.10 on January 1, 2006. Currently, food service workers receiving tips have a minimum wage of $3.30 per hour. That would rise to $3.90 an hour on October 1, 2004; $4.40 per hour on July 5, 2005; and $4.65 an hour on January 1, 2006.
A full-time minimum wage worker earns only $10,712 — $4,112 less than the official federal poverty level
The bill would also protect workers from employer abuses by authorizing an employee advocate to file a wage and hour complaint and establishing the New York State Labor commissioner's access to wage and hour records in making a determination of an alleged violation.
Working families deserve more
If the minimum wage had kept pace with inflation it would be $8.72 an hour, instead of $5.15 an hour
The real value of the minimum wage has declined from $8.72 per hour in 1968 to $5.15 per hour in 2003 — a drop of 41 percent. Now, New York has the opportunity to join a growing list of states that are raising the standard of living for minimum wage earners. Six of our neighbors have minimum wage levels above the current $5.15 level, including: Connecticut ($7.10), Delaware ($6.15), Maine ($6.25), Massachusetts ($6.75), Rhode Island ($6.75), and Vermont ($6.25; increasing to $7 in 2005). Additionally, increasing the minimum wage will help working families get ahead and help spur the economy.
What the experts are saying...
"The New York State AFL-CIO applauds the leadership of Speaker Silver ... and the hard work of the members of the Assembly for voting to raise the minimum wage in New York State."
- Denis Hughes, President of the New York State AFL-CIO
"To us, this is what the American dream is about: To be able to work and to be able to support your family."
- Jim Bertolone, President of the Rochester Area Labor Federation
"They work all day and still when they get home they still don't have enough money to pay their bills."
- Sherman G. Dunmore Sr., President of the Interdenominational Ministerial Alliance
"All working people should be making a living wage. There's no reason why a person working 40 hours a week is unable to support his or her family."
- Carol Craft, Coordinator for the Westchester-Putnam Central Labor Council AFL-CIO
"There isn't a single county in the United States where a person working full time at the minimum wage can find modest but decent affordable housing."
- Richard Ravitch, Millennial Housing Commission Co-Chair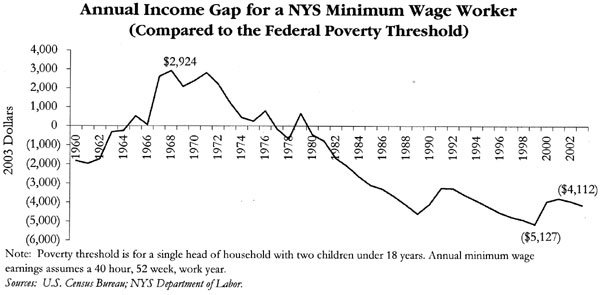 The Assembly calls on Senate and governor to support increasing the minimum wage
The minimum wage bill is part of the Assembly's continuing effort to make New York more affordable for working families. Since 1994, the Assembly has adopted nearly $13 billion in tax cuts — by 2005 these cuts will save individuals and businesses over $15 billion. In fact, 2.3 million families paid either no income taxes or had a "negative tax liability" due to Assembly initiatives. The Assembly also supports the workplace equity bill (A.6252) to help ensure individuals receive equal pay for equal work.
It's time for the state's minimum wage to reflect cost of living increases. The Assembly is dedicated to helping New York's hard-working families, and we urge the Senate and the governor to make the right choice and support raising the state's minimum wage before more New York families and children are forced to needlessly suffer.