March 2001

---
From the NYS Assembly

Sheldon Silver, Speaker

Herman D. Farrell, Jr., Chair, Ways & Means Committee
---
Projecting the amount of revenue New York State will have available in a coming year is a vital first step toward crafting a balanced state budget that invests in the needs of New Yorkers
| | |
| --- | --- |
| We can't raise standards in our schools and keep college affordable,cut taxes for businesses and working families, and keep quality health care affordable if we don't know what resources we have to work with | |
For the past six years, the Assembly's revenue forecasts have proven to be more accurate than the Governor's.
The Assembly has a record of accurately forecasting state revenues available to raise educational standards, keep college affordable, and meet the needs of New Yorkers.
Over the past six years, the Governor significantly underestimated state revenues by more than $10.1 billion. Meanwhile, year after year, he's proposed budgets that slashed state funding for education, health care and other essential services the state provides for its residents –– resulting in missed opportunities for New Yorkers.
The Assembly fought the Governor's harmful and unnecessary cuts every step of the way, standing up for working families –– and winning.
Armed with the most accurate revenue forecasts, the Assembly fought for, and won, historic state investments in our children's education, restored critical health care funding and cut taxes for businesses and working families by nearly $13 billion since 1994.
The Governor has underestimated this year's revenues by as much as $3 billion –– breaking his previous record for the largest forecasting error.
Although the current national economic expansion has slowed, modest growth is expected to continue in New York State and across the country, according to the extensive analysis and detailed forecast data prepared by the Assembly's Ways & Means Committee.
The Assembly's analysis includes recommendations made by an independent panel of professional economists drawn from major financial corporations, prestigious universities, and private forecasters across the state. For 17 years, these independent professionals have provided their expertise in evaluating the Assembly's economic and revenue reports.
During the last six years, the Governor has consistently underforecasted receipts. His errors have ranged from $546 million to $2.4 billion.
While the current fiscal year is not yet complete, the Governor stands to break his previous record for the largest forecasting error. In all likelihood, his revenue estimate for 2000-2001will underestimate actual receipts by $2.5 billion to $3 billion.
Over the two-year forecasting period, the Assembly projects the Governor will underestimate receipts by approximately $2.152 billion.
On March 2nd, the state had already reached the Governor's projected revenue forecast for the entire fiscal year that was included in his proposed 2000-2001 budget. On March 6th, the state reached the level of revenues agreed to in the final 2000-2001 state budget. And on March 20, New York reached what the Governor projected only a month ago would close out the current fiscal year. (See illustration below)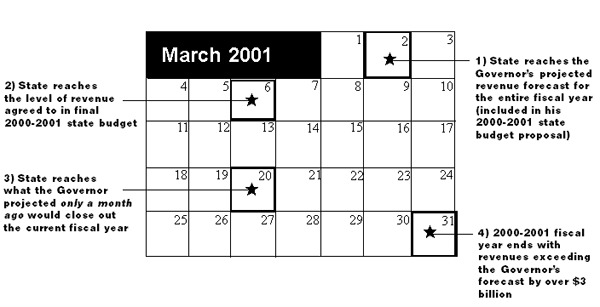 Again this year, the Assembly will fight to ensure these revenues are used wisely –– for education and health care needs and to strengthen the economy in communities across the state.