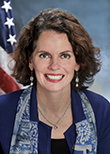 The Honorable
Patricia A. Fahy
Intern Committee Chair
A message from
The Honorable Patricia A. Fahy, Chair
To All Interested Students:
Thank you for visiting the New York State Assembly's Intern Committee Website.
The 2023 Assembly Session Internship will mark the 52nd year of our academic program. All the Members of the Intern Committee share our hope that you will choose to participate in the Session Internship. We will do all we can to make sure you receive a valuable, practical learning experience in an environment that respects academic freedom and rewards individual achievement.
The 2023 Session Internship application deadline is November 1, 2022. Should you have any questions or need additional information, please do not hesitate to contact the Assembly Intern Office at 518-455-4704 or intern@nyassembly.gov.
Thank you for considering us.
Welcome and best of luck on your endeavors this year!
Patricia A. Fahy
Intern Committee Chair