Women and the Assembly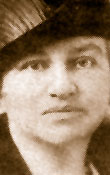 Ida Sammis
1918-1920
New York County
Republican
The year 1917 was a very important date in the history of women's rights. This was the year women succeeded in gaining the right to vote in New York State.
During this time, Ida Sammis decided to run for the New York State Assembly. A prominent suffrage leader, Sammis was extremely active in organizing women to fight for their right to vote. In 1911, Sammis organized the first women's suffrage club in Suffolk County and was the suffrage leader of her Assembly district. In November 1917, Sammis was elected to the New York State Assembly.
Once in the Assembly, Sammis quickly became the first woman to sponsor a bill enacted into law. During her term, Sammis focused her attention on issues that met the needs of her constituents, introducing 15 bills, ten of which became law. Sammis lost her bid for reelection in 1920 but continued to be active in community and political organizations.