Women and the Assembly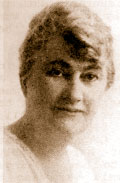 Mary Lilly
1918-1920
New York County
Democrat
Mary Lilly was a graduate of New York University School of Law. She was the first woman to win a full scholarship in a competitive exam and the first woman admitted to the practice of law in New York State.
Lilly was very active in women's law clubs and Democratic clubs, and was the editor of two journals: The Women's Law Journal and the Journal of the Society for Aid of Mental Defectives. She also worked with women prisoners on Blackwell Island.
Lilly accepted the Democratic nomination for a seat in the New York State Assembly and became one of the first women elected to the New York State Legislature in 1917.
While in the Assembly, Mary Lilly introduced legislation providing for establishing paternity of children born out-of-wedlock. She sponsored legislation that would abolish the death penalty. Extremely concerned with the welfare of children, she introduced legislation to protect their rights. Unfortunately, Mary Lilly was defeated in 1920. She returned to her private law practice and continued her work as a community leader and organizer.