Women and the Assembly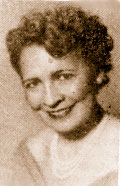 Bessie Buchanan
1955-1962
New York County
Democrat
Bessie Buchanan, the first African-American woman to be elected to the Legislature, became active in politics while working on Governor Herbert A. Lehman's campaign. Before that, she was a performer in a drama and musical comedy.
As an Assemblywoman, Buchanan was assigned to the Cities, Institutions, Printing, and Social Welfare. She also served on the Joint Legislative Committee on the Problems of the Aging and was designated by Governor Rockefeller as a State Delegate to the White House Conference on the Aged.
Buchanan was active in promoting civil rights legislation and legislation to end discrimination in private housing, and in the assignment of police officers to their specific duties. Buchanan even composed a song and pushed for its adoption as the State anthem; she was unsuccessful in her effort.
In 1962, Buchanan chose not to run for reelection, but crossed party lines, endorsing Republicans Rockefeller and Senator Jacob Javits in their reelection bids. Also in 1962, she was appointed by Rockefeller as a Commissioner of the Human Rights Division. After five years in this position, Buchanan resigned, remaining active in local volunteer organizations. Bessie Buchanan died in 1980 at the age of 78.