Assemblyman Billy Jones Joins Colleagues and Advocates to Call for Unemployment Insurance Rate Decrease to Help Small Businesses
March 28, 2022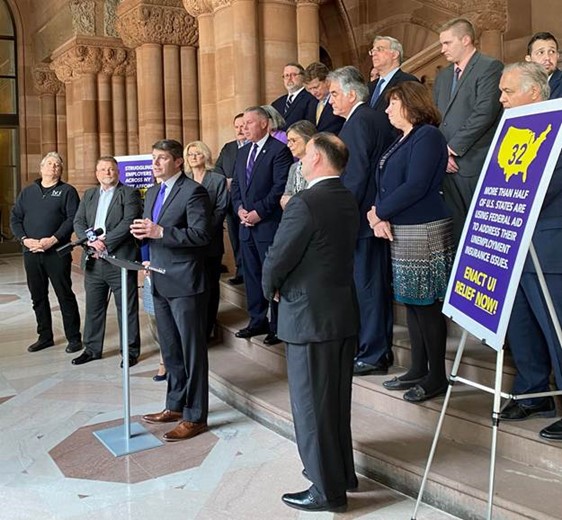 Assemblyman Billy Jones attended a press conference today at the Million Dollar Staircase in Albany hosted by Upstate United to call for unemployment insurance tax rate to be lowered to help small businesses recover. Upstate United is an advocacy group that represents small business in the North Country and throughout New York State.
"Small businesses are the backbone of the North Country economy and must have our support after persevering despite the challenges of the pandemic," said Assemblyman Billy Jones. "At the drop of the hat, small businesses adjusted to the various state mandates and restrictions, and many of them waited patiently until they were allowed to reopen. Some of them even switched to produce PPE to help those in need. We must show the same support and care they show to our communities and not burden them with astronomically high unemployment insurance rates when many of the businesses were forced to close their doors.
"These high unemployment insurance rates wouldn't just impact the businesses that were closed," Jones continued. "It also unfairly applies to the small businesses that never laid off an employee. The state has funding from the federal government to cover these costs and take the burden away from small businesses. That is why I am proud to not only join my colleagues today, but also why I am proud to sponsor a bill that would lower the unemployment insurance tax rate to show my strong support for what small businesses have done for us these past two years."
Jones co-sponsors A7788A to set a lower percentage for unemployment insurance tax rates for small businesses until 2024 to give businesses more time recover. Last year, New York passed a law also co-sponsored by Jones that prohibited using unemployment claims during the pandemic in employers' unemployment experience rating to prevent small businesses from being punished for closing during the shutdown (A2001).