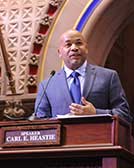 Carl E. Heastie is the 100th Speaker of the New York State Assembly. He has the historic distinction of being the first African-American to serve as leader of the Chamber's 150 members representing communities across the state of New York. Since February 3, 2015, he has led the Assembly Majority in efforts to uplift communities and promote a Families First agenda that prioritizes strategic investments in the health, safety, economic and social well-being of New York's families. Under his leadership, the Assembly has won a number of landmark victories that deliver on the Assembly Majority's promise to expand opportunities for achievement in communities around the state.
Prior to becoming Speaker, Heastie – a lifelong advocate for workers' rights – served as chair of the Assembly Labor Committee. He was the principal negotiator in securing an increase in the minimum wage and in 2015, with the support of his Majority colleagues began the fight for $15 in the New York State Legislature. These efforts culminated in 2016 with the successful enactment of a graduated plan to raise the minimum wage across the state to provide workers at the lowest rungs of the economic ladder a fair chance to achieve financial independence and success. Before becoming Speaker he was also the prime sponsor of the Wage Theft Prevention Act that provided a framework for the State Department of Labor to root out incidences of wage theft and help aggrieved workers reclaim their illegally withheld earnings.
Pandemic Recovery
In early 2020, New York became the epicenter of the COVID-19 pandemic in the United States, taking the lives of thousands of New Yorkers and devastating the state's economy. Throughout the pandemic, Speaker Heastie fought to ensure stability for renters at risk of eviction and homeowners struggling to avoid foreclosure. To help keep families in their homes during the health crisis and economic recession, Speaker Heastie and his Assembly Majority colleagues passed legislation to place a moratorium on evictions and foreclosures, and helped to allocate $3 billion in combined federal and state dollars for rent and homeowner relief during the SFY 2021-22 Budget negotiations.
During the SFY 2021-22 Budget negotiations, Speaker Heastie fought to deliver New Yorkers the relief they needed to overcome the COVID-19 health and economic crises and put the state on the road to recovery. Alongside his Assembly Majority colleagues, Speaker Heastie helped secure $800 million in funding for a Small Business Recovery Grant Program, $40 million in funding for a new Arts Recovery Grant Program and $2.4 billion to ensure families have access to the child care they need to get back to work. In addition, he and his colleagues helped New York's most vulnerable immigrant communities who were not eligible for unemployment or federal stimulus relief by fighting to secure $2.1 billion for an Excluded Worker Fund. The budget also made historic investments in education to help schools and students recover from the challenges associated with remote education and learning loss and kept higher education within reach by rejecting proposed tuition increases at SUNY and CUNY schools and raising the maximum Tuition Assistance Program (TAP) award by $500.
Education
Speaker Heastie is a proud product of New York City's public schools and throughout his legislative career he has been a passionate advocate for the transformative power of education. He has joined his Majority colleagues in fighting for spending plans to provide funding for statewide universal pre-kindergarten programs and additional support for the state's neediest schools. Since he became Speaker in 2015, these efforts have secured more than $7.3 billion in additional school aid funding. During the SFY 2021-22 SFY Budget negotiations, Speaker Heastie helped secure a multi-year investment in prekindergarten, including $105 million for the 2021-22 academic year. These investments have not only provided an essential foundation for early childhood education, they help school districts afford the resources they need to provide a sound basic education to every child in New York. In 2016, this commitment was strengthened by the inclusion of additional support to establish community schools, a holistic approach to providing students with needs-based education that provides wraparound health, social services, mental health and afterschool programming to promote the well-being of students alongside their academic success.
In an especially poignant campaign to strengthen the achievement of all New York's students, Heastie championed efforts to secure the enactment of President Barack Obama's "My Brother's Keeper" initiative. This victory made New York the first state in the nation to commit to this innovative, multi-faceted agenda to overcome challenges and improve outcomes for boys and young men of color. Since its inception in 2016, New York has invested $108 million in My Brother's Keeper initiatives. During the 2021 New York State My Brother's Keeper Symposium, President Obama delivered remarks crediting Speaker Heastie with bringing leaders together to launch the first-in-the-nation statewide initiative that has benefitted 60 schools districts and 16 colleges and universities across the state.
Higher Education
In one of his first actions as Speaker, Heastie strengthened the Assembly's longstanding commitment to supporting high quality, public education by creating the Higher Education Road to Success Initiative to build bridges to higher education for New York's students. Since 2015, this initiative has provided a more than 68 percent increase in funding support for opportunity programs that help thousands of low and middle income families afford a college education. It also marked the beginning of strategic annual efforts to slow down the rapidly rising cost of tuition by increasing base aid for community college students, earmarking millions in funding support for capital improvements as well as supporting child care services on public school campuses.
Another highlight of the Road to Success Initiative was the creation of a Foster Youth College Success initiative to improve college graduation prospects among a student population that faces unique challenges in completing their education. This highly successful program began with an Assembly-led $1.5 million commitment in 2015 that has since grown to $7.2 million in the most recently enacted 2021-22 SFY Budget.
Since 2015, Speaker Heastie has continued to fight for greater access to higher education for New Yorkers. In 2019, the Assembly Majority passed the Jose Peralta New York State DREAM Act to ensure immigrant children have access to higher education in order to full participate in the state's economy.During the 2021-22 SFY Budget negotiations, Speaker Heastie successfully advocated to increase the maximum Tuition Assistance Program (TAP) award by $500 – the first increase in seven years.
Criminal Justice
Under Speaker Heastie's leadership, New York has ushered in reforms to lead the criminal justice system into the 21st century. During the SFY 2017-18 Budget, Speaker Heastie, alongside his Majority colleagues, successfully negotiated a measure passed by both houses to strengthen New York's indigent legal defense program and finally raise the age of adult criminal responsibility. Speaker Heastie built on these accomplishments with the SFY 2019-20 Budget by eliminating cash bail for most misdemeanor and non-violent felony offenses to ensure that socioeconomic status does not determine whether someone accused of a crime is forced to sit in jail while awaiting trial. The SFY 2019-20 Budget also delivered long sought reforms of speedy trial provisions, inspired in part by the tragic case of Kalief Browder, a teenager who was imprisoned for nearly three years at New York City's Rikers Island jail awaiting trial in a case that was ultimately dismissed. During the 2019-20 budget negotiations, Speaker Heastie also successfully fought to update the state's outdated and regressive discovery laws to prevent wrongful convictions and improve efficiency in court proceedings. In the wake of another senseless death caused by police brutality in the spring of 2020, Speaker Heastie responded to public calls for action by swiftly passing a legislative package to protect New Yorkers, improve police and community relations, and bring transparency and accountability to the criminal justice system. In 2021, Heastie led the Assembly Majority in passing the Humane Alternatives to Long-Term (HALT) Solitary Confinement Act to end the inhumane use of solitary confinement for vulnerable people and create more humane and effective alternatives.
After leading the People's House in decriminalizing marijuana possession in 2019, in 2021 Speaker Heastie and his Assembly Majority colleagues passed the Marijuana Regulation and Taxation Act (MRTA), making New York the 15th state in the U.S. to legalize the adult use of marijuana for individuals 21 and older. The landmark legislation will provide justice for communities of color that have been disproportionately impacted by the war on drugs. Additionally, it will create thousands of jobs for New Yorkers and generate a revenue stream for the state.
Housing
Speaker Heastie has also prioritized passing legislation to combat some of the most pressing challenges facing communities around the state, chief among them, the affordable housing crisis that has left of New Yorkers struggling to afford the rising cost of housing. In 2019, under Speaker Heastie's leadership, the Assembly Majority extended New York's rent laws and gave tenants across the state the strongest protections in New York State history with the passage of a comprehensive package of tenant protections. In 2016, the Assembly Majority fought to secure a multi-year, $2.5 billion investment for the creation and preservation of affordable housing as well as new supportive housing units in order to stem the flow of families and individuals battling substance use into homelessness.
Elections
In 2019, Speaker Heastie led the Assembly Majority in reforming New York's antiquated electoral process with the passage of a comprehensive legislative package to ensure every voter is able to exercise their constitutional right to vote. The package included legislation that established a nine day early voting period and streamlined the voter registration process.
Transportation
During the 2019-20 budget negotiations, Speaker Heastie was successful in negotiating the creation of a much-needed dedicated funding source for the Metropolitan Transit Authority, making New York City the first American city to implement congestion pricing. The enacted budget established a long term sustainable funding source to make necessary repairs and improvements to public transit, and will likely serve as a model for other cities. In 2017, Speaker Heastie helped expand ridesharing to upstate communities to deliver New Yorkers greater transportation opportunities.
Gun Safety
Speaker Heastie has also been a tireless advocate for common sense gun safety reform measures. The enacted SFY 2018-19 Budget included legislation that would require domestic abusers to surrender all guns, including both handguns and long guns, closing a loophole in New York State law. In 2019, Speaker Heastie led the Assembly Majority in passing a package of common sense gun safety legislation including measures to ensure more thorough background checks, a ban on arming teachers and school administrators, and legislation to get illegal weapons and modified weapons off our streets. The package also included the Red Flag Bill to keep weapons out of the hands of individuals that have proven to be a danger to themselves or others.
Climate Change
In keeping with his belief in pursuing holistic, consensus driven solutions, Speaker Heastie formed work groups to explore options for meaningful and sustainable investments for issues like child care and climate change. Additionally, he convened public hearings that were instrumental in creating the framework for a multi-billion dollar investment in the 2017-2018 Budget for water quality infrastructure and remediation. In 2019, Speaker Heastie took bold steps to protect New York's waterways and the environment by including legislation to ban plastic carryout bags in the SFY 2019-20 enacted budget. Later that year, under his leadership, the Assembly Majority passed the Climate Leadership and Community Protection Act, a comprehensive bill that sets critical environmental standards, including reductions in greenhouse gas emissions and increases the use of renewable energy in order to address and mitigate the effects of climate change.
Other Accomplishments
Speaker Heastie represents the 83rd A.D. in the northeast Bronx and was first elected to the Assembly in 2000. Prior to becoming Assembly Speaker, he scored a victory for public health when he championed the passage of a law that prohibited the sale of water containing nicotine to children under 18 years old. He also authored a law to help victims of domestic violence by releasing them from lease obligations if it is found that remaining in the residence would keep the victim in a dangerous environment. He has been one of the state legislature's leading advocates for the construction of new schools and his vigilance led to the development of several new schools in his district. In addition, he secured significant funding for housing, education, after school programming, health and human services, jobs readiness and computer training for constituents. As a result of his decades-long mission to securing a safe, modern place for families and residents of the Bronx to enjoy, Speaker Heastie was instrumental in efforts that led to the New York City Economic Development Corporation's 2016 announcement that a new state-of-the-art YMCA facility would be constructed in the Edenwald neighborhood of the Bronx. In August 2018, the project officially broke ground and is expected to open in early 2020. The facility has brought 100 new construction jobs, with a 35 percent MWBE contracting goal for design and construction and will deliver 100 new permanent jobs. Once completed, the new YMCA will provide a wide array of family-friendly activities and recreational space for youth.
Prior to joining the Assembly, Speaker Heastie served as a budget analyst in the New York City Comptroller's office. He earned a master's degree in business administration with a concentration in finance from Baruch College of CUNY and a bachelor's degree in applied mathematics and statistics from Stony Brook University (SUNY).