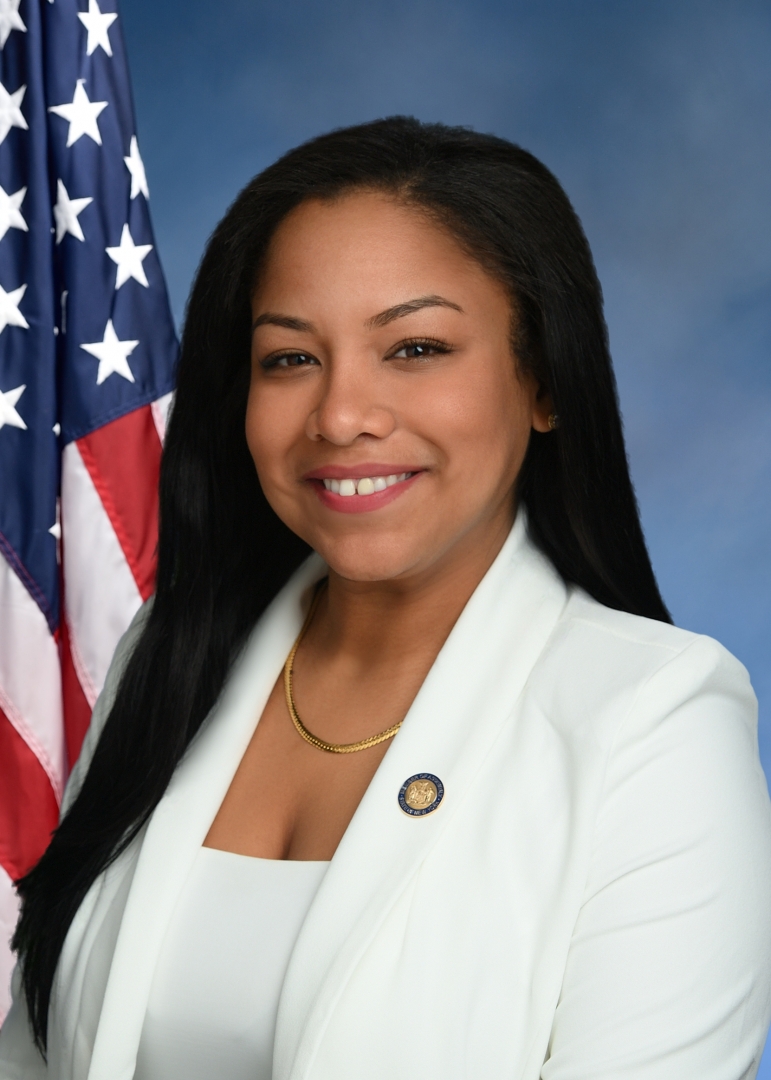 Carmen E. Arroyo was born in the beautiful mountainous town of Corozal, Puerto Rico. She graduated from Corozal High School and Sixto Febus Business School, where she received her Secretarial-Bookkeeper degree.
Looking to build a better future for her family, Carmen moved to New York alone in 1964. She worked long hours in a factory and saved money until she was able to bring her seven children from Puerto Rico. In 1965, she sent for her children, but unable to find day care services, she was forced to receive Public Assistance. Carmen was on Public Assistance for nine months, during which time she organized the welfare mothers of her community and founded the South Bronx Action Group in 1966. The South Bronx Action Group received funding and Carmen served as the Executive Director. She expanded the notion of tenant advocacy to include the interrelated services of employment, health, adult education, and welfare. The SBAG is still in existence today.
Carmen has demonstrated that it is never too late to obtain your college education, graduating from Eugenio Maria de Hostos Community College with an Associate of Arts degree in 1978, and from the College of New Rochelle with a Bachelor of Arts degree in 1980 at the age of 44.
In 1978, Carmen became the Executive Director of the South Bronx Community Corporation, where she was responsible for the implementation of policy and overall supervision of program budgeting. As the Executive Director, Carmen implemented a successful feeding program where over 400 senior citizens and drug addicts were served hot meals on a daily basis. Under her leadership, the SBCC had the largest Summer Youth Employment Program in New York City, employing over 5,000 youth each year. Carmen was also instrumental in raising funds from public resources and private foundations. She initiated a grant for the 202 Federal Housing Act, and received two grants of over 8.4 million dollars to construct 194 housing units for senior citizens. Carmen was also instrumental in the development of private houses for working class families in the South Bronx. As a result, she became the first Puerto Rican woman housing developer in New York State.
In 1978, Carmen was elected Female District Leader of what today is the 74th Assembly District until 1993. She served as Member and President of Community School Board 7 from 1973 to 1993 and she served as member of the Lincoln Hospital Advisory Board for 17 years. In 1973, Carmen was appointed by former Governor Nelson Rockefeller to the NYS Medicaid Council and served for a term of 4 years. Carmen was also Member and Chairperson of Planning Board One and member of the school board for 20 years.
Carmen is a long time community activist and civic and political leader. She is President of the Puerto Rican Women in Political Action. Carmen, along with other Puerto Rican and Hispanic professional women, founded the Entre Nosotras, Inc., an organization to empower Puerto Rican/Hispanic women of all socio-economic classes throughout the state; Carmen serves as the Honorary Chair.
In a special election in February 1994, Carmen E. Arroyo became the first and only Puerto Rican/Hispanic woman elected to the NYS Assembly. Carmen is also the first Puerto Rican woman elected to any State Assembly in the US. She is a member of the following committees: Alcoholism & Drug Abuse, Children & Families, Education, and Aging. She was appointed Chair of the Subcommittee on Bilingual Education during the 1996 Legislative Session. Carmen is a member of the following organizations: NYS Assembly/Senate Puerto Rican/Hispanic Task Force, NYS Legislature's Black and Puerto Rican Caucus, Women's Caucus, and the National Order of Women Legislators. Carmen is also well known for her talent as a passionate poetry reciter and poetry writer. Because of Carmen's extensive track record of community involvement, as well as her many accomplishments, Assemblywoman Carmen E. Arroyo is one of the most highly respected female leaders in the state and nation.
Mrs. Arroyo has also written a book of poems called "Mis Poesias." She is currently working on her next book, titled "The Life of a Puerto Rican Woman in the U.S."
Mrs. Arroyo is the mother of seven and the grandmother of thirteen.