Assemblyman Braunstein Thanks Community for Donations to his 7th Annual Holiday Gift Drive
January 5, 2018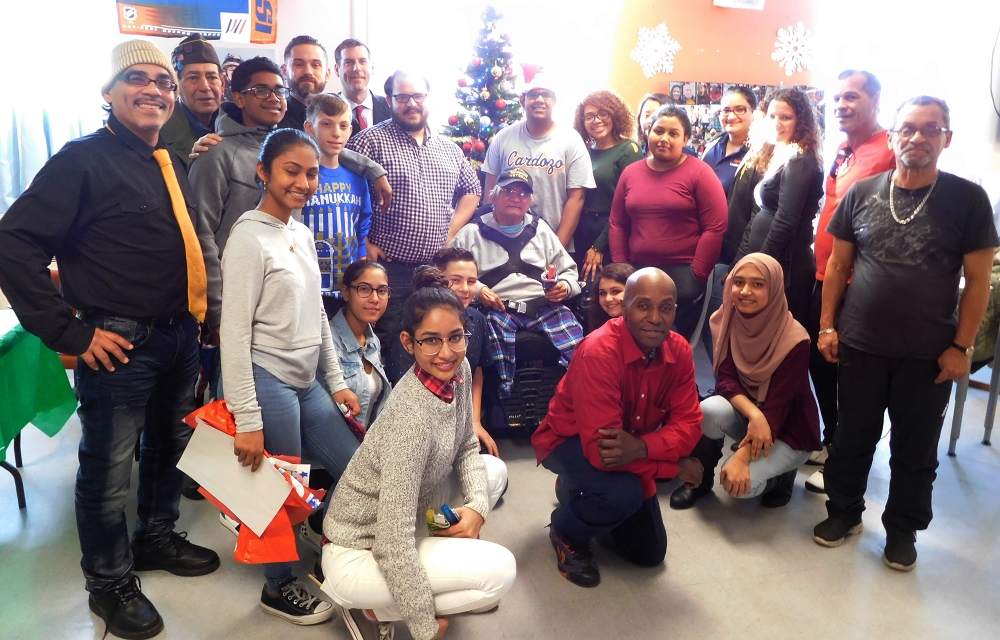 Assemblyman Braunstein, his staff, and students and staff from Benjamin N. Cardozo High School are pictured on December 21, 2017 with veterans at the St. Albans VA Community Living Center.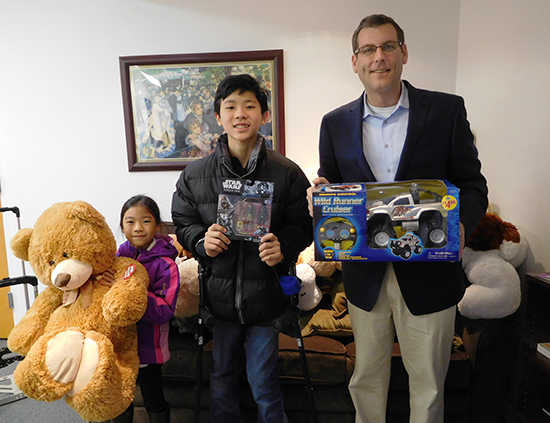 Assemblyman Braunstein is pictured with Madison and Maximus Wong from PS 107, whose school donated to Assemblyman Braunstein's 7th Annual Toy Drive.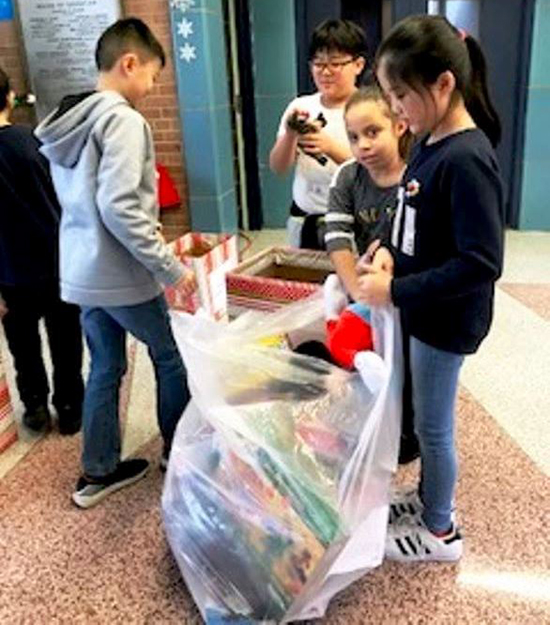 Students from PS 221 in Little Neck with some of their donations to Assemblyman Braunstein's 7th Annual Toy Drive.
Assemblyman Edward C. Braunstein (D-Bayside) wrapped up his office's 7th Annual holiday gift drive for hospitalized veterans and needy and hospitalized children. Once again, thousands of toys for children, as well as hundreds of items for veterans, including new clothing, candy, playing cards, and puzzles, were donated by 20 schools, civic and senior organizations, and several hundred local residents.
"I was overwhelmed by the incredible generosity of my constituents who helped bring holiday cheer to those in need. I want to express my sincere gratitude and appreciation to our community and our schools for continuing to make these gift drives such a success. Since we received so many donations, we were able to bring smiles to the faces of thousands of needy children, as well as hundreds of hospitalized veterans this holiday season," said Braunstein.
"Additionally, I want to thank Community Board 11 and Dr. William M. Duke for their support for this year's drives," said Braunstein.
Assemblyman Braunstein provided toys to numerous institutions and charitable programs, including: 4 Kids in Need drive for homeless families; NYC Children's Center - Queens Campus; QSAC Day School of Whitestone; QSAC Preschool & Early Childhood Center of Douglaston; Queens Chronicle Toy Drive for homeless families and domestic violence victims, Ronald McDonald House; Sacred Heart Church Toy Drive; St. Mary's Hospital for Children; Toys for Tots; Transition Domestic Violence Shelter; United States Army; and YAI Bayside.
All donations to the Veterans' Gift Drive were delivered on December 21, 2017 by Assemblyman Braunstein and his staff, along with students from Benjamin N. Cardozo High School, to the St. Albans VA Community Living Center and the New York State Veterans Home at St. Albans.
Among the schools and community organizations that contributed to this drive were:
Beech Hills Shareholders, Benjamin N. Cardozo High School, Deepdale Cares, Divine Wisdom Catholic Academy of Douglaston, Friends of Fort Totten Parks, Girl Scout Brownie Troop #4720, Greater Whitestone Taxpayers Civic Association, Greater Whitestone Taxpayers Senior Center, Holy Cross High School, IS 25, Jefferson Democratic Club, MS 67, MS 158, PS 31, PS 32, PS 98, PS 107, PS 159, PS 169, PS 184, PS 203, PS 209, PS 221, PS 811, Saint Mel's Italian American Association, Senior Club at St. Kevin's Parish, SNAP of Eastern Queens Innovative Senior Center, State Farm - Jonathan W. Schenck, The Lowell School, Townsend Harris High School, and the William Spyropoulos Greek-American Day School.