DeStefano Drafts Letter Concerning Gas Power Restrictions
March 27, 2023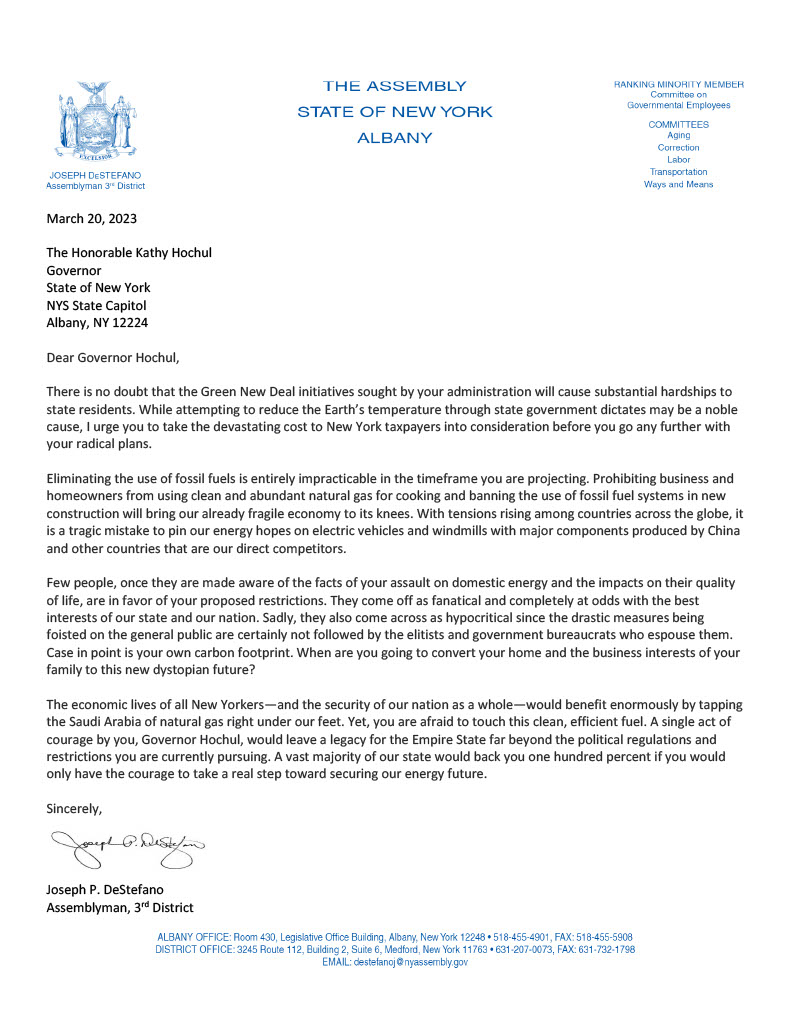 Assemblyman Joe DeStefano (R,C-Medford) recently sent a letter to Gov. Kathy Hochul concerning her policy position to eliminate gas-powered devices and vehicles from being sold in New York soon. The timeline presented by the governor, coupled with the reality this change will likely destabilize the economy, has made New Yorkers statewide concerned, and DeStefano questions whether this is the right move.
"Few people are in favor of the measures to remove natural gas power from homes, yet despite this pushback the governor has not relented," DeStefano said. "I am incredibly concerned this push for environmental justice is coming at the detriment of the average New Yorker, who will be footing the bill for this disingenuous energy revolution that the governor is forcing on us all. It's a matter that deserves more scrutiny than anyone in the executive office of this state is putting on it right now."
DeStefano further finds it hypocritical that the governor is asking New Yorkers of all classes to move forward with these changes but has yet to practice what she is preaching.
"The governor's mansion still runs on natural gas. The governor takes multiple private flights a week across the state, sometimes across the nation. She is asking New Yorkers to change radically but is unwilling or unable to live that change herself. It's hypocritical," DeStefano concluded.