Legislative Update
February 18, 2017
Health and Medicaid Budget Hearing
At this week's Health and Medicaid budget hearing I was able to question Dr. Howard A. Zucker, Commissioner of Health for New York State and, Jason Helgerson, State Medicaid Director about the 2017-2018 Executive Budget Proposal and its impact on Health and Medicaid.
One topic I was able to discuss was the Governor's proposal to curb rising prescription drug costs. This is an area of great importance based on my background as a pharmacist and legislator.
Take a few moments to hear some of the questions I had in this clip.
Financial Disclosure Statements Legislation
I recently introduced legislation to require all members of the Legislature and all candidates running for membership in the Legislature to provide all financial disclosure forms that are submitted to JCOPE on their campaign and official state websites.
The bill also requires that the financial statement disclosure be filed in an electronic, readable, searchable, and downloadable format for user friendliness and transparency. In turn, JCOPE would also be required to provide the disclosure forms in the electronic, readable, searchable, and downloadable format.
The purpose of this legislation is to increase transparency and to educate the public about who represents or is seeking to represent them by requiring members of the Legislature and candidates for such elected office to post their financial disclosure statements in visible and frequently visited domains for constituents and the electorate to easily access them.
To read more on this bill click here.
Scaffold Bill
The New York State Labor Law is the last of its kind in the nation. The provision holds property owners and contractors absolutely liable for gravity related injuries that happen on construction worksites, even if the injured party's own negligence contributed to the accident.
Legislation I recently introduced would reform the current law to ensure that liability is proportional to fault, and greatly reduce burdensome insurance premiums that impact all construction projects in the state.
Read more in this bill here.
District Update
Sage Student Visit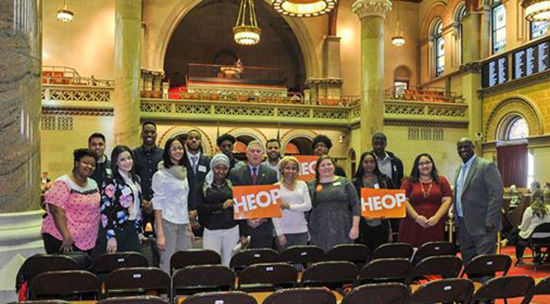 It was a pleasure to welcome these Sage Students from the Albany Campus to the Assembly Chamber. These students were here to share their personal story about HEOP and how it has provided them an opportunity to attend Sage. Nice and sincere young men and women who were appreciative of the opportunity. I am glad they came!
HVCC
Hudson Valley Community College's Workforce Development Institute, NYS Office of Parks, Recreation and Historic Preservation and Historic Albany Foundation have recently announced a new traditional trades program that will be aimed at increasing the number of people skilled in the historic building trades.
I congratulate the New York Office of Parks, Recreation, and Historic Preservation, Historic Albany Foundation, and the Hudson Valley Community College Workforce Development Institute on the creation of this program. This initiative will provide our local communities with the tools to develop a skilled labor workforce that can work to preserve the rich history of our Capital Region while connecting our residents to jobs and a sustainable career. Thank you to these partners for collaborating on this effort and I look forward to seeing it develop.
For more information or to register for classes visit www.hvcc.edu/wdi.
Empire Center Budget App
The Empire Center's new budget app breaks down NYS spending and provides a user friendly way to sift through the NYS budget. I find it easy to use and very helpful in finding out more about how our state budget works.
Rail Inspections
Here is another round of rail inspections throughout New York State, specifically in the Capital Region. I was glad to see no infractions here and appreciate the Governor's continued persistence on this matter.
In the News
Capital Tonight Interview
Be sure to watch this Capital Tonight interview with Liz Benjamin where we discuss the Governor Cuomo's budget proposal to curb rising prescription drug costs.