New Program to Promote Access to Justice for Victims of Domestic Violence in New York State
November 4, 2016
Bronx, N.Y. – Assemblywoman Latoya Joyner (D-Bronx, 77th AD) joined New York State Unified Court System Chief Judge Janet DiFiore and Assemblywoman Helene Weinstein (D-Brooklyn, 41st AD) – chair of the New York State Assembly Judiciary Committee – to announce a new initiative which would allow domestic violence victims to obtain a temporary order of protection (TOP) via video-conference.
With overwhelming support from her colleagues, Assemblywoman Joyner passed Assembly Bill A.6262 in April 2016. The legislation allows for victims of domestic violence to file orders of protection remotely rather than traveling to a court house. Many victims do not make this trip due to fear of retaliation from their abuser.
Governor Andrew Cuomo signed the legislation into law in October 2016 as part of a legislative package of bills to protect and further Women's Equality.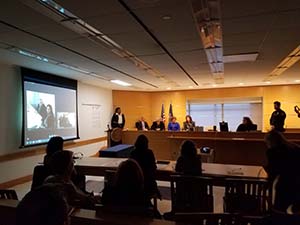 As authorized by a recent amendment of New York's Judiciary Law and Family Court Act, the Remote Access Temporary Order of Protection (TOP) Project will permit eligible applicants, with the assistance of a trained advocate, to e-file their TOP petition and appear before a judge via video-conference.
This marks as the nation's first remote TOP initiative to be implemented on a statewide scale. The project will be overseen by the Office of the Statewide Coordinating Judge for Family Violence Cases, established to promote better outcomes in domestic violence cases and led by the Hon. Deborah Kaplan.
"I have always felt that it is essential to end the cycle of domestic violence and open the doors of access to the legal system for New Yorkers from all walks of life," said Assemblywoman Joyner. "Since State Senator Catharine Young and I passed domestic violence legislation last year, truly meaningful progress has been made in protecting those who are seeking justice. The dedication and commitment of Chief Judge Janet DiFiore has made a genuine difference for countless families living with domestic violence."
For more information, see New York State Courts' press release: http://bit.ly/2fkKE91.
Assemblywoman Latoya Joyner represents the 77th Assembly District, which includes the Claremont, Concourse, Highbridge, Mount Eden and Morris Heights sections of The Bronx. She is currently the Chair of the Subcommittee on Diversity in Law and a founding member of the Black, Puerto Rican, Hispanic & Asian Legislative Caucus' Women of Color Subcommittee. She also serves on the Assembly's Aging, Consumer Affairs and Protection, Housing, Insurance, Judiciary and Social Services Committees. A champion for families, Assemblywoman Joyner has made her mark both in Albany and in the community on issues ranging from preserving affordable housing and ensuring quality education for all to protecting victims of domestic violence.