Miller Honors Local Women with Women of Distinction Awards
November 21, 2017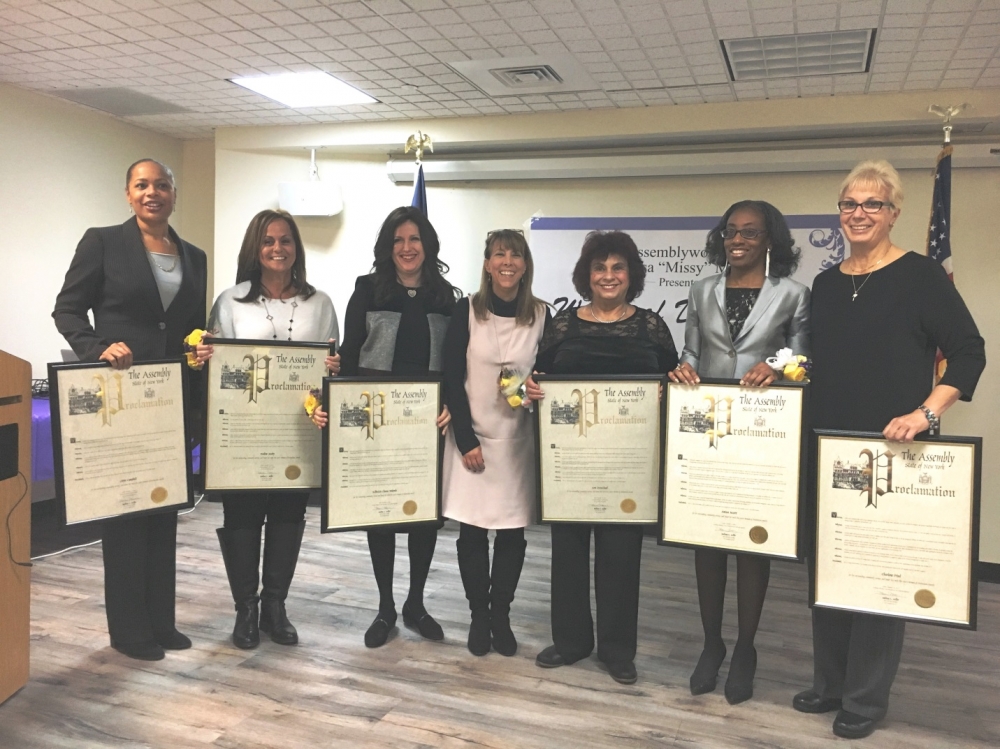 Assemblywoman Melissa Miller (R,C,Ref-Atlantic Beach) and recipients of her Women of Distinction Award, from left to right: Gwynn Campbell, Nadine Jacoby, Rebbetzin Chanie Wolowik, Assemblywoman Melissa Miller, Ann DeMichael, Councilwoman Anissa Moore and Charlene Fried.
Assemblywoman Melissa Miller (R,C,Ref-Atlantic Beach) was proud to honor six local women with her Women of Distinction award on Sunday, November 19. Honorees included Anissa Moore (Long Beach), Charlene Fried (East Rockaway), Ann DeMichael (Woodmere), Chanie Wolowik (Cedarhurst), Gwynn Campbell (Inwood) and Nadine Jacoby (Oceanside). Local Girl Scouts Troops were in attendance to present the flags and led attendees in the Pledge of Allegiance before the awards were distributed.
"I am in awe of the strength and determination each of these women possess and they have each made a choice to give to others, by doing so they have made such a difference in so many lives," said Miller. "I am so proud to be able to honor these women with my first annual Women of Distinction award for the hard work and extraordinary accomplishments they have made throughout their lifetimes."
The honorees were awarded proclamations while Miller shared each woman's accomplishments with guests over a brunch at Oceanside Library.