Assemblywoman Michaelle C. Solages Reports to the People - Spring 2016
May 17, 2016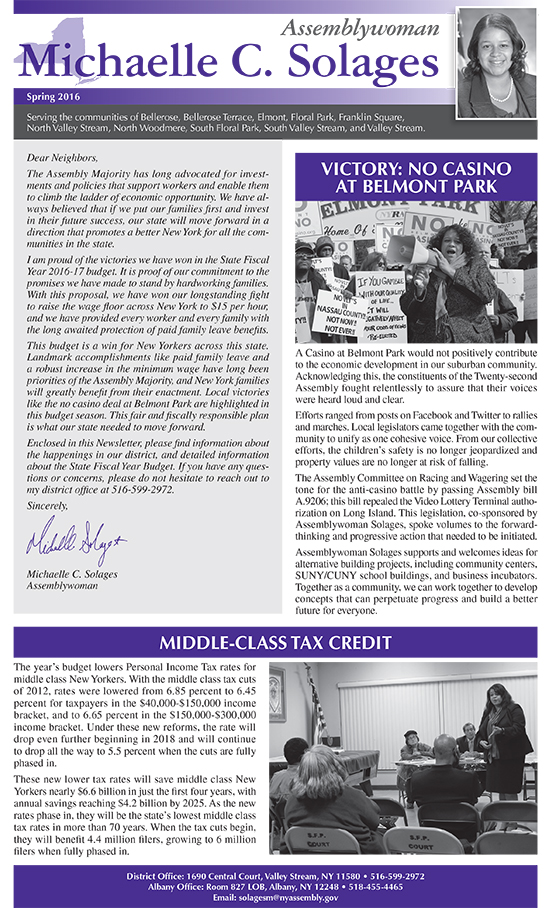 We are proud of the victories we have won in the State Fiscal Year 2016-17 budget. It is proof of our commitment to the promises we have made to stand by hardworking families. With this proposal, we have won our longstanding fight to raise the wage floor across New York to $15 per hour, and we have provided every worker and every family with the long awaited protection of paid family leave benefits.
This budget is a win for New Yorkers across this state. Landmark accomplishments like paid family leave and a robust increase in the minimum wage have long been priorities of the Assembly Majority, and New York families will greatly benefit from their enactment. Local victories like the no casino deal at Belmont Park are highlighted in this budget season This fair and fiscally responsible plan is what our state needed to move forward.
Enclosed in this Newsletter, please find information about the happenings in our district, and detailed information about the State Fiscal Year Budget. If you have any questions or concerns, please do not hesitate to reach out to my district office at 516-599-2972."