Assemblywoman Michaelle Solages: Summer Reading Challenge Encourages Kids to Explore New Ideas and Their Local Libraries
June 17, 2019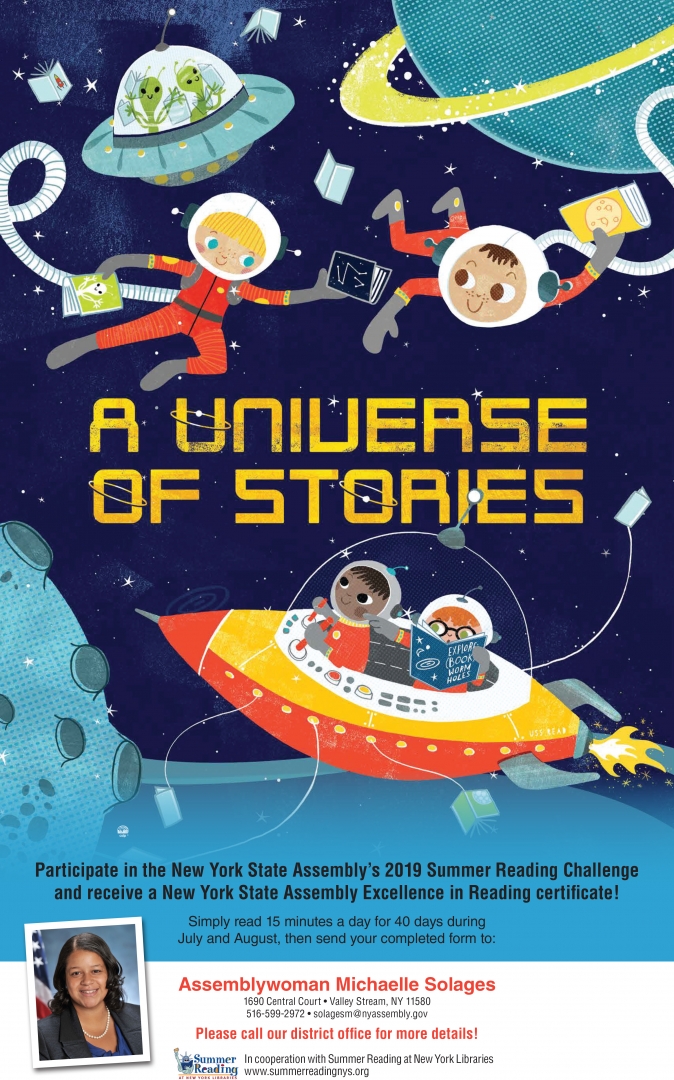 Summer is a time for fun and lifelong memories, whether that's playing outside with friends until dinnertime, taking family vacations or diving into a pile of books. To encourage our kids to spend some time with new or familiar characters, Assemblymember Solages is partnering with New York State libraries and inviting children to participate in the Assembly's annual Summer Reading Challenge. This year's theme is science and space with the slogan, "A Universe of Stories," encouraging young readers to expand their horizons, explore the world around them with STEM-related activities and dream big. Young readers are awarded with the Assembly Excellence in Reading certificate to recognize their efforts and dedication.
"Just picking up a book transports kids to fantastical places, back in time or far into the future, off on exciting adventures or into the lives of historical figures," Assemblywoman Solages said. "These tales teach us important lessons and expand our minds with new and thrilling ideas. Once the school year ends, we need to make sure kids keep on reading for a brighter, successful future."
Summer reading is a simple way for kids to pass the time on their days off and is highly effective in maintaining their academic skills. Too often, kids' reading levels slip during the summer, a phenomenon known as "summer slide," and they spend crucial time in the fall trying to catch back up, sometimes with great difficulty.[1] Ensuring kids have time during their breaks to pick up a good book isn't only a great way to have fun – it prepares them for the new school year by keeping their young minds active, Assemblywoman Solages noted.
The challenge asks children to read a book for a minimum of 15 minutes a day for at least 40 days during July and August. Children can read on their own or with a partner or caregiver and mark off days on the calendar provided. Once they've completed 40 days or more, they submit the calendar to Assemblywoman Solages' District Office at 1690 Central Avenue, Valley Stream, NY 11580 and they will receive a certificate in the mail. You may download the pamphlet here.
For more information about the Summer Reading Challenge, please visit summerreadingnys.org, email solagesm@nyassembly.gov or call Assemblywoman Solages' office at 516-599-2972.
_________________________________
[1] brookings.edu/research/summer-learning-loss-what-is-it-and-what-can-we-do-about-it