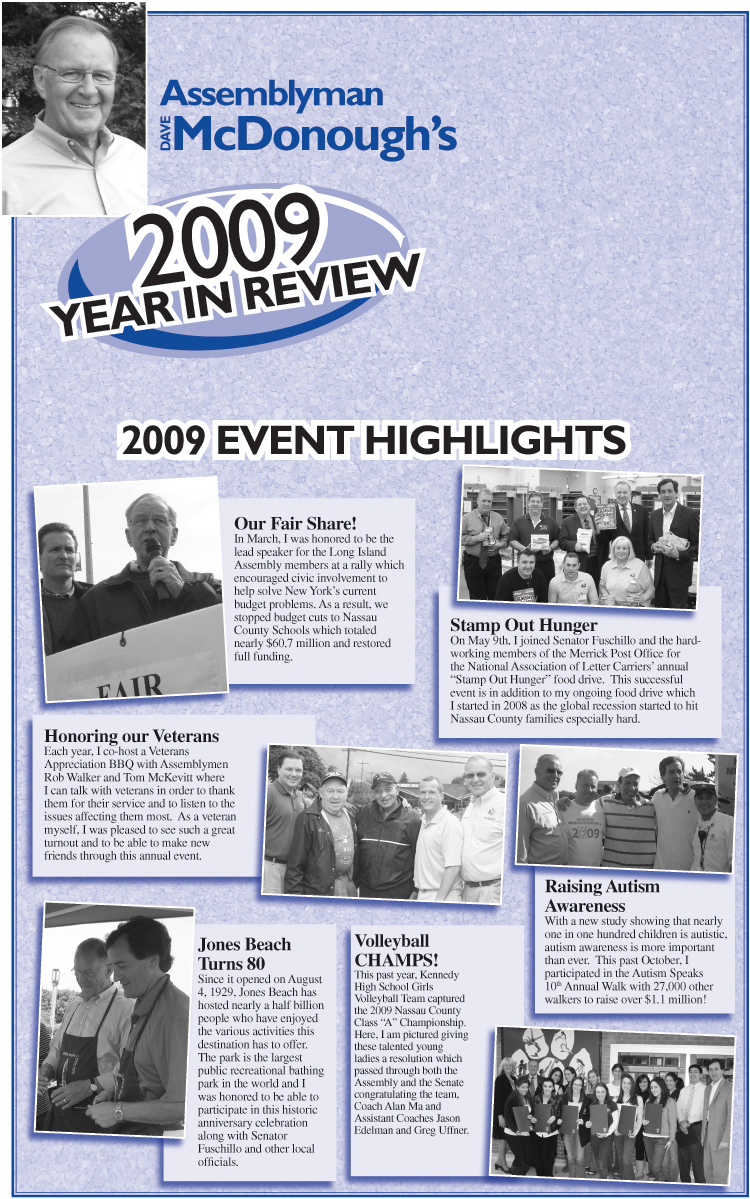 Albany Dysfunction Reaches New Low...




"I was extremely disappointed to see proposed ethics reforms largely ignored."

— Dave McDonough

With the start of this past session in January and the welcoming of new members to the Assembly Chamber, 2009 started with hope that we would be able to face the challenges laid out before us and deal with them in a bipartisan manner on behalf of the people of New York. This hope would quickly subside due to partisan bickering and a lack of focus on the issues that matter most to New Yorkers.

This was never more obvious than when Pedro Espada and his allies were able to shut down the Senate for nearly a month, costing New Yorkers millions of dollars we don't have only to have nothing to show for it except new titles and offices for the men who were clearly only out for their own personal gain.

Not only was the lack of progress in the Senate disheartening and upsetting to New Yorkers everywhere, but I was extremely disappointed to see proposed ethics reforms to prevent this action from ever happening again being largely ignored in favor of nepotism and jobs for political patronage.




Albany Spending Reaches New High!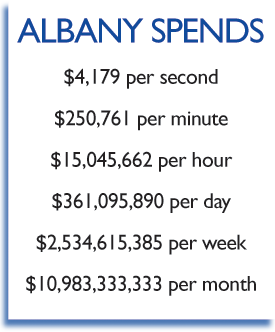 This past April, the largest state budget in history was passed totaling $131.8 billion. I voted against this budget because I knew that it spent far beyond what New York would receive in revenue. Governor Paterson and the legislative leaders in both the Senate and Assembly pushed this budget through and must now clean up their own mess because I will not vote to cut school aid which has been promised to school districts and is counted on to educate our children.
As you can see by the chart on the left, Albany's spending addiction is out of control and, as I have said for years, the spending spree must stop. It is my hope that in the coming year, Governor Paterson will work in a bipartisan manner to produce a long-term budget plan which slowly brings the cost of government down and reduces spending long beyond his term in office.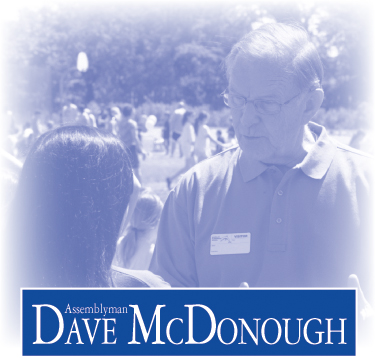 404 Bedford Avenue • Bellmore, NY 11710
(516) 409-2070 •
mcdonoughd1@assembly.state.ny.us
Coats for Kids!
Each year, thousands of children throughout Long Island need coats to keep them warm and healthy during the winter months. If you have new or gently used coats which you would like to donate to my annual Coats for Kids drive, please contact my office at 409-2070.
What to look for in 2010!
Each year, I look for new and exciting ways to meet my constituents and offer valuable services. For next year, I have already begun planning the following events and want to make sure you look for invites starting after the first of the year!
Blood Drives
Car Seat Safety Checks
Identity Theft Seminars
Women of Distinction Ceremony
If you or your community group have other ideas as to how we can work together to make Nassau County a better place to live, e-mail me at McDonoughd1@assembly.state.ny.us.