Education
As a former teacher and UFT chapter leader, I know what resources a teacher needs to properly educate a child.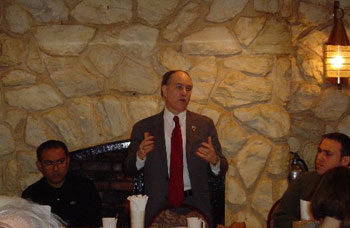 Assemblyman Colton delivers a speech in his district, advocating for increased school aid that was promised under the Campaign for Fiscal Equity legal victory.
This year we kept our promise to children and their families by finding the money in a tight budget year to restore cuts to schools in New York City. As we raise standards for our schools to prepare our children for the future, we must not deprive them of the tools they need to learn and to continue the progress of our state.
There is still much to be done in fighting for equitable education funding for New York City. Under the Campaign for Fiscal Equity lawsuit, the state is required to increase funding to New York City over a period of four years. This additional funding did not make its way into the budget this year because of the dire fiscal situation that the city and state are currently in. We were able to fight off the proposed cuts in the executive budget and make sure that we were not short-changing our children the resources they need to succeed. I will continue to fight to force the state to meet its commitment to make up the monies that the state promised and rectify the years of shortchanging our students in New York City.
I am a familiar face at the annual education and higher education budget hearings. I am there to voice the concerns of the parents and students in my district and hold education administrators accountable for the decisions they make that affect those in my community and around the state.
This year I provided testimony at a hearing regarding the continuation of Mayoral Control over New York City schools. Prior to the hearing I conducted a survey within my district which asked for feedback from constituents on whether or not they thought Mayoral Control should continue or not. From my own observation and the general consensus expressed to me by my constituents, it was apparent that Mayoral Control worked in improving standards, but had serious flaws in promoting accessibility, transparency, and making parents feel like their voice mattered in the education of their child. Upon deciding whether or not to renew Mayoral Control this year, we will have to incorporate these changes if we truly want to have an effective and inclusive education system in New York City.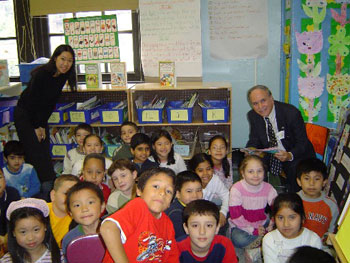 Assemblyman Colton sponsors an annual reading challenge to encourage parents to be involved in their children's education.
Investing in our pubic higher education systems is another priority that I work hard for every year. Every high school student or working adult should have the opportunity to advance their academic pursuits so that they can secure a high paying job, or advance in their current occupation. This year I fought to help restore the proposed $49.9 million in cuts to the Tuition Assistance Program, which helps lower income students pay their tuition costs.
Higher education is also a significant monetary investment for a student and it is important that a college student graduate with the least debt possible. I was a sponsor of a bill which the Assembly passed in May of 2007 entitled "The Student Lending Accountability, Transparency And Enforcement Act" (SLATE). This bill was designed to ensure that universities were acting in the student's best interests when they discussed their preferred lender list with the students and it made sure that the university was not directing the student to a preferred lender that was engaging in revenue sharing with the university, or offering other perks to the university, in exchange for being placed on the preferred lender list. Lenders that belong on the preferred lending list should be there because they offer the student the best interest rates and are transparent when it comes to the conditions attached to the loan. Lenders should not be on the list just because they have established a collusive relationship with the college or university.
I understand that the enormous cost of getting a higher education not only includes tuition, but also all of the other essentials such as books, room and board, lab fees, and transportation. That is why I have introduced a bill (A.4728) which would require the MTA to give full-time undergraduate students a twenty-five percent discount on their fare to their college.
Higher education is the economic engine of our state and without a well-funded quality public university system we would not have the skilled work force that we currently enjoy here in New York State. The SUNY and CUNY system is one of the best public university systems in the country and I am committed to keeping it that way.