Environment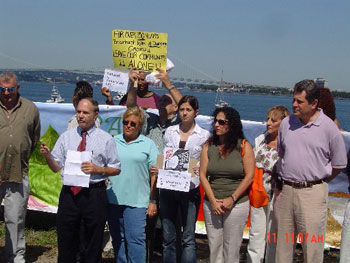 Assemblyman Colton is working with community leaders and other Brooklyn elected officials, such as Senator Diane Savino and Assemblyman Alec Brook-Krasny, to stop the construction of a waste transfer station. The proposed waste station poses a serious threat to the air and water quality for those living alongside Gravesend Bay.
While browsing my legislation you may notice that a lot of my bills deal with aiding recycling efforts and defining the role of business in limiting their own carbon footprint on our environment.
I work with my Brooklyn, Albany, and Solid Waste staff members to promote sound environmental policies that reduce waste and encourage innovative solutions to managing harmful materials that are being placed in our landfills or dumped on the sides of our roads and highways.
We are currently working on legislation that would require manufacturer's of electronic equipment to recycle a set amount of the devices that they produce. About forty-percent of heavy metals containing lead, cadmium, and mercury, come from the dumping of electronics in landfills. This poses a serious and growing threat to our groundwater, and if these units are incinerated, an even more serious threat to air quality.
We are also working on legislation that would help reduce the proliferation of plastic bags in our landfills, rivers, streams and our community parks. The presence of all these non-biodegradable bags is not only a problem for the splendor of our natural environment, but they also consume billions of barrels of precious petroleum every year. Pristine land and water untouched by man's refuse is a rapidly declining phenomenon, and we must find ways to reduce and reuse what we consume.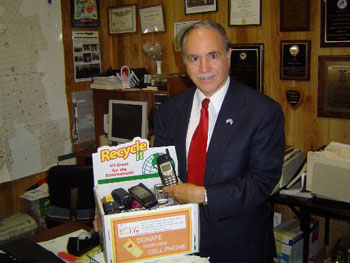 Assemblyman Colton has sponsored many recycling drives that help divert electronics from the waste stream. He understands that the harmful chemicals in these devices can cause environmental problems if incinerated or left to seep into ground water at landfills.
Preserving the environment is one of the issues that I believe can begin and grow from community efforts. With the help of neighborhood civic groups and environmental organizations, I have sponsored successful electronics and cell phone recycling drives. I have also introduced a resolution that calls on the Governor to proclaim April 2009 as "Electronics Recycling Month", and encourage municipalities to hold their own electronics recycling drives.
Fighting bad environmental policy can also come from community efforts. This can be demonstrated by the tireless efforts of my Brooklyn office and the concerned citizens of our community expressing their outrage over a proposed waste transfer station in Gravesend Bay. The proposed site is the former site of an incinerator that operated illegally without a permit since 1957 until 1991. I worked as an attorney pro bono to help shut it down after years of polluting Gravesend Bay with toxic ash and affecting the air quality around the site. Now I am leading the fight to stop the NYC Department of Sanitation from opening a waste transfer site and having to dredge the bay to make way for waste barges. This dredging will seriously disrupt the water quality in Gravesend Bay, as it will stir up dormant toxins and re-introduce them into the water. This would contaminate local marine life and disrupt the recreational value that the bay and the surrounding parks provide for our children.
The case is currently being reviewed by a NYS Department of Environmental Conservation Administrative Law Judge and we are awaiting his decision on whether or not the Department of Sanitation will be granted the permission to build the transfer station. We recently had to send letters of protest to the U.S. Army Core of Engineers because we found out they were trying to apply for a dredging permit in the bay. I submitted comments to the Army Core demanding that they stop their attempts to apply for the permit because DEC's Administrative Law Judge did not hand down an official decision on whether or not the site can be built.
I will continue to fight the building of this transfer station and I will continue to fight to protect our environment within our community and throughout the state.