Health Care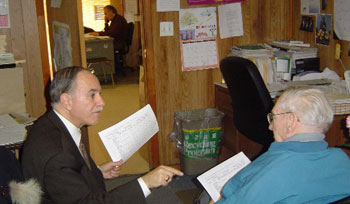 Assemblyman Colton not only represents his constituents, he also educates them on how to apply for and use federal and state programs. He is seen above discussing Medicare benefits with a constituent.
I believe that affordable and quality healthcare is a right not a luxury. Hospitals and nursing homes are New York's most important allies in combating sickness and disease, as well as ensuring the needs of our elderly population are met.
My Brooklyn office staff members are here to assist seniors in filling out applications for the Elderly Pharmaceutical Insurance Coverage (EPIC) program. A program which the Assembly helped protect this year from $49.9 million in proposed cuts. The Assembly also restored $2.8 million to the Medicaid program which fills in the "wrap around" coverage for drugs denied by Medicare Part D. Both of these actions will help seniors on fixed incomes afford their prescription drugs that they need to maintain a healthy lifestyle.
This year the Assembly expanded its efforts to provide affordable prescriptions to New York State resident ages 50-64 that are not covered by the EPIC program. In a three-way agreement between the Assembly, Senate and the Governor, we implemented the "Prescription Saver Card", saving those eligible up to 60 percent on generic drugs and 30 percent on brand name drugs. To be eligible for this benefit the annual income must be $35,000 or less for single individuals or $50,000 or less for married individuals. Medicaid recipients or those enrolled in the EPIC program are not eligible for this benefit program. To learn more about the program or start the application process, visit http://nyprescriptionsaver.fhsc.com or call 1-800-788-6917.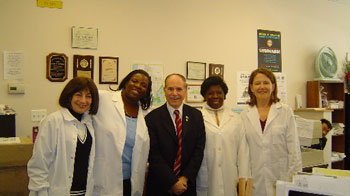 Assemblyman Colton hosts a free flu shot event every year for the seniors in his district administered by local nurses.
Right now the NYS Assembly is trying to target the demographic groups in this state that make up the largest percentage of people without health insurance. It is estimated that 434,000 children and teens are without health insurance. In response to this shocking number, the Legislature and the Governor extended the Child Health Plus Program to families making up to $70,000 (family of four $84,000). Under this expansion of Child Health Plus, 64,000 children and teens are eligible for subsidized healthcare coverage. I strongly support any efforts to reform the healthcare system and move toward universal healthcare for all New York State residents.