Public Protection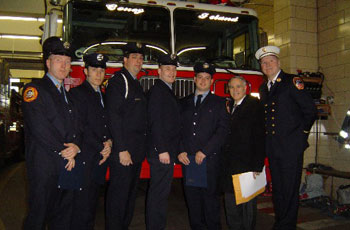 Assemblyman Colton always makes sure to take time to thank the hard working men and women who help keep the community safe.
One of my prime responsibilities as a New York State legislator is to advocate for and enforce policy that will make all New York State residents safer. Since I entered public office I have worked with my Assembly colleagues to pass tougher laws on sexual predators, get illegal guns out of the hands of criminals, strengthen penalties against those that use violence against the elderly, and secure funding for our brave men in women that patrol our neighborhoods and provide a safe community to raise a family in.
The 2008 legislative session was a major victory for New York State in the area of public protection. In cooperation with the Attorney General's office, the New York State Legislature passed the groundbreaking legislation known as the Electronic Security and Targeting of Online Predators Act "e-STOP". This bill is the first in the country in terms of the stringent restrictions it puts on registered sex offenders use of the internet. All registered sex offenders must submit all of their internet accounts and social networking user names to the Division of Criminal Justice Services. The social networking sites are then notified that a registered sex offender is using their forum to connect with other members, and the site is given the discretion to remove the offender. Since the adoption of this law, thousands of sex offenders have been removed from sites such as Facebook and MySpace. Sex offenders are the number one criminals when it comes to repeating their crime and I am very proud of this legislation and my sponsorship of it.
I have also introduced my own sexual predator legislation (A.1527-B) which would create the crime of luring or enticing of a child using any electronic device as a class C felony. The rapid advance of technology provides predators a growing repertoire of tools to evade law enforcement surveillance and hide their identity from their potential victims. This legislation would strengthen the role of the prosecution in sex crime cases by denying the offender's claim that the child they had thought they were communicating with was actually a police officer and not a minor.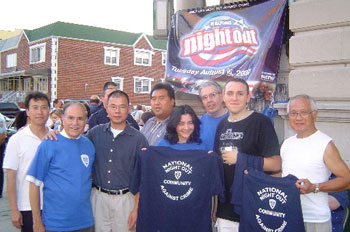 Assemblyman Colton and his District Office staff participated in the National Night Out Against Crime, organized by the local police department.
In addition to adding obstacles and barriers for sexual predators, I supported the Assembly's efforts to curb violence against the elderly. I was a sponsor of a bill (A.9818) which increased the penalty of assaulting a person over the age of 65 from a class A misdemeanor to a class D violent felony. Thugs should have to pay dearly for attacking the most vulnerable members of our population, and they will under this law.
In the fight against illegal guns the assembly passed a "Gun Violence" package, aimed at getting guns out of the hands of violent criminals or mentally unstable, and helping law enforcement agencies track down assailants that use guns against their victims.
In the wake of the Virginia Tech tragedy, it is apparent that gun background checks are not strict enough and fail to keep guns out of the hands of the mentally unstable. I supported a bill which disqualified certain individuals that are deemed incapacitated or had been involuntarily committed to a mental health facility, from owning or purchasing a firearm. I also sponsored a "Microstamping" bill (A.9819) which would require semiautomatic pistols manufactured or delivered to New York State, to be able to imprint a stamp on a bullet, so that law enforcement officials can trace the spent shell back to the weapon.
I also was a sponsor of "The Children's Weapon Accident Prevention Act" (A.76-A), which created five new crimes for negligently storing a firearm. It also directs the state Education Department to develop a weapons safety program to teach children how to prevent weapon accidents. Approximately one third of gun-related deaths involving children occurred because of the improper storage guns and ammunition.
With the recent tragedies in Binghamton, NY and Pittsburg, PA, it seems as if we have a lot more to do to curtail the accessibility to high-powered semi-automatics and assault weapons. I would urge you to call your congressional representative and tell them to renew the ban on assault weapons. We cannot curtail this violence unless the whole country is involved.
The Assembly also made strides in prosecuting and preventing financial crimes. The sub-prime lending crisis, which has caused much of our current economic woes, was facilitated by the convergence of a buyer's market, inflated home prices, and a widespread lending scheme used by fraudulent lenders to get homebuyers into loans that would be impossible to pay back. The sub-prime lending protections in (A.10817) include mandating that all homebuyers be provided with educational materials on different kinds of loans and making them aware of their rights in all mortgage loans. It also established minimum underwriting standards and clearly defined the crime of residential mortgage fraud. This will prevent loan counselors from falsely reporting a homebuyer's income and placing them in loans that begin at a low adjusted percentage rate and "balloon" over time, to a price that the homebuyer can no longer afford.
I will continue to work with my colleagues in both chambers of the legislature to ensure that we stamp out crime in our neighborhoods and prevent senseless violence which often takes the lives of innocent by-standers.