December 22, 2003
Assemblymember Scott Stringer, Chair of the Committee on Cities, questions the New York City Housing Authority (NYCHA) about the problem of long-term public housing vacancies through a Freedom of Information request issued in March 2003. In response to ongoing complaints about long waiting lists for public housing and the hardships posed by delayed transfer requests, Assemblymember Stringer sought to determine the magnitude of a critical citywide housing problem.
This month, Assemblymember Scott Stringer received information from NYCHA revealing that astonishing 5,358 out of 181,977 public housing apartments are currently vacant.1 Of the close to 5,400 vacancies, 4,399 could serve as low-income apartments if fixed, converted for access by the disabled or stopped being used as a resource to relocate people during construction. NYCHA keeps another 959 apartments vacant for administrative use or storage.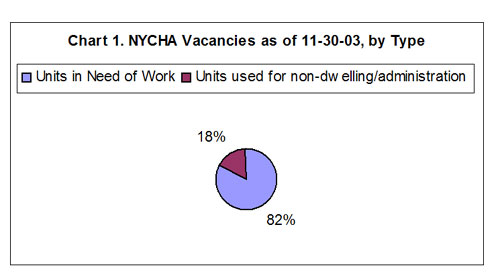 Currently, there are 635 apartments vacant that need to be converted for disability access, 2,727 apartments vacant needing repairs and 1,037 apartments vacant to be used to relocate people while construction is being done on their apartments. NYCHA distinguishes between repairs necessitated by unexpected events, such as floods or fires, and repairs necessitated by other conditions.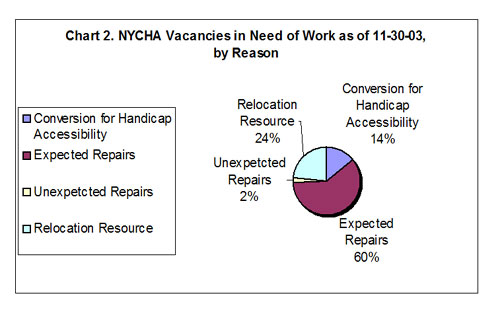 Yet, the sheer volume of vacancies does not convey the entire story. Stringer's investigation shows a significant portion of the current public housing vacancies has been withheld from potential tenants for years. In fact, there are apartments that have been off the market for as long as 12 years. As Table 1 below shows, as many as 79% of apartments have been vacant for over a year, 21% for over 5 years and 2% for over 9 years.
Table 1. NYCHA Public Housing Apartment Vacancies for Repair, Relocation and Conversion as of 11-30-03, by Borough


| | | | | |
| --- | --- | --- | --- | --- |
| Area | Total | # Vacant for More than 1 Yr. | # Vacant for More than 5 Yrs. | # Vacant for More than 9 Yrs. |
| Bronx | 907 | 826 (91%) | 394 (43%) | 33 (4%) |
| Brooklyn | 958 | 675 (70%) | 40 (4%) | 3 (0.3%) |
| Manhattan | 1,749 | 1,337 (76%) | 353 (20%) | 13 (0.7%) |
| Queens | 546 | 459 (84%) | 141 (26%) | 39 (7%) |
| Staten Island | 239 | 190 (79%) | 6 (3%) | 0 (0%) |
| Citywide | 4,399 | 3,487 (79%) | 934 (21%) | 88 (2%) |
The chart below further highlights the length of time apartments remain vacant, failing to collect rent. Using the minimum monthly rent for public housing, NYCHA's annual loss for its vacancies is $11 million at the very least.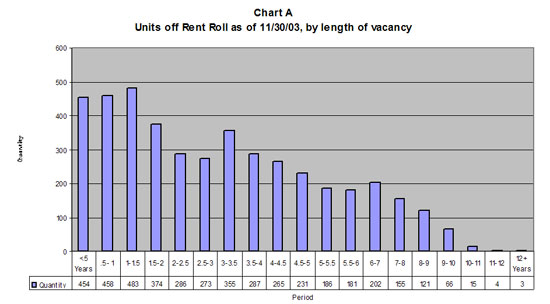 ---
NOTE: The chart above was created by NYCHA (December 2003)
New York City continues to face a severe affordable housing shortage while desperately needed NYCHA apartments go unused. A clear indicator of this crisis is the approximately 146,100 people on the waiting list for public housing, with an average wait of 8 years. According to NYCHA's website, as of March 31, 2003, there were 265,702 applicants on the waiting lists for subsidized housing in the City, 146,097 families are on the waiting list for Conventional Public Housing, 149,238 families are on the list for the Section 8 program and 29,633 applicants on both lists. Skyrocketing rates of homelessness, rising market rate rents, Mitchell-Lama buyouts and vacancy decontrol call for the full utilization of every possible existing resource for affordable housing.
New York City must focus simultaneously on the preservation and development of affordable housing. Mayor Bloomberg has laudably proposed a combination of government and private initiatives aimed at creating or rehabilitating 65,000 apartments for people of various income levels. However, one obvious place to start addressing the City's housing needs is to stem the amount of time currently used to complete public housing conversions and repairs. There is no legitimate explanation or excuse for allowing thousands of public housing apartments to go unused for so many years.
There are current efforts underway that should be expanded or modeled after to decrease the lag time in conversion and repair. Assemblymember Stringer has supported one recently developed approach, called the Construction Management/Build Program (CM/Build), which may serve to address the enormous lag time in public housing construction. Born from the work of TRADES, a coalition of unions, public housing residents and community groups, CM/Build was originally envisioned to encourage NYCHA to comply with federal and local mandates requiring its contractors to hire public housing residents. NYCHA has agreed to give approximately $500 million in contracts from its construction and maintenance budget over a three-year period for the program, which requires bidders to have a state-approved apprenticeship program and adhere to existing prevailing wage laws. The CM/Build program should be reviewed for its potential to effectuate swifter construction to free up more public housing as well as to create jobs for the low-income residents of NYCHA developments. In addition, Mayor Bloomberg and NYCHA should seek additional solutions to this ongoing problem.
NYCHA must bring thousands of New Yorkers out of the cold and restore the public housing stock.