Making Our Highways Safer
Improving Highway Safety
With more than 2,000 highway crashes a year in New York, highway work zones remain a dangerous place to work. This year, Assemblywoman Lupardo sponsored the Work Zone Safety Act of 2005 (Ch. 223 of 2005) to help improve the safety of highway construction workers and motorists. More specifically, the law will:
Impose a 60-day license suspension for motorists convicted of speeding in posted highway work zones

Create a $50 surcharge for speeding violations in highway work zones

Step up law enforcement through greater police presence at all major active work zones and use radar speed display

Enhance review of work zone safety and design by law enforcement, relevant state agencies, contractors and laborers
This law will also protect workers through public service announcements, distribution of literature and public awareness campaigns about highway construction and maintenance safety.
Assemblywoman Lupardo watches as Governor Pataki signs the Work Zone Safety Act into law.
| | |
| --- | --- |
| | Assemblywoman Lupardo watches as Governor Pataki signs the Work Zone Safety Act into law. |
Passing VaSean's Law
Assemblywoman Lupardo helped pass VaSean's Law which significantly strengthens New York laws that punish drunk drivers who kill or seriously injure other people while driving (Ch. 39 of 2005).
VaSean's Law is named in memory of 11-year-old VaSean Alleyne, a victim of a drunk driver who could not be charged with a felony under the previous law. The new law strengthens a provision of the previous law to make it easier for district attorneys to prosecute drivers for vehicular assault and vehicular manslaughter when serious physical injury or death is caused by a person driving a vehicle while intoxicated or impaired by the use of a drug.
Under the terms of VaSean's Law, the previous law is tightened by removing the element of criminal negligence required to prosecute crimes of vehicular assault or vehicular manslaughter. This law provides that a person who drove intoxicated and killed or seriously injured another person because of that intoxication would be guilty of vehicular manslaughter or vehicular assault. The law also creates a statutory presumption that any driver who kills or injures while drunk is guilty of a felony.
Strengthening Dangerous Driving Laws
Assemblywoman Lupardo also supports a new law that increases penalties for leaving the scene of an accident that results in personal injury or death (Ch. 49 of 2005).
Under the previous law, an intoxicated driver who stays at the scene of an accident resulting in the death of another person faced a more serious charge – second degree vehicular manslaughter, a Class D felony – than if he or she left the scene and sobered up – which was a Class E felony. This new law prevents this problem from happening and no longer rewards an intoxicated driver for fleeing the scene of an accident.
Rebuilding and Renewing our Transit Systems with the Transportation Bond Act
The recent approval of the $2.9 billion Rebuild and Renew New York Transportation Bond Act will improve New York's transportation infrastructure, create jobs and promote economic growth and energy conservation.
It is a comprehensive, fiscally responsible plan that will expand the capacity and safety of our roads and bridges, railroads, airports and canals and improve our economic vitality for years to come.
The Bond Act provides over $55 million to Broome County which will be used toward:
the conversion of Route 17 to Interstate 86

the rehabilitation and maintenance of portions of Interstate 88

funding for safety and economic development projects at the Tri-Cities Airport

necessary improvements to the Central New York Railroad Track in the city of Binghamton
Also, the Broome County Department of Transportation will receive $813,000 to purchase four new buses through the Transit Clean Fuel Vehicle Initiative that will help reduce emissions and enhance air quality in Broome County.
The heart of our state's industries like agriculture and manufacturing are dependent on our transportation systems. Over the next five years critical improvements will be made to allow New York to meet the challenges and opportunities of the 21st century.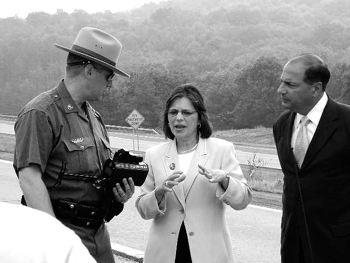 Assemblywoman Lupardo discusses highway safety with Senator Libous and a state police officer.