New York State Assembly's
Summer
Reading
Challenge
Read today and make waves tomorrow!
Sponsored by
Assemblyman
William Magnarelli
in cooperation with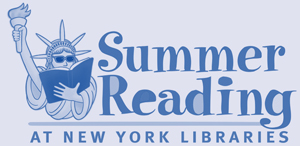 www.summerreadingnys.org

Assemblyman
William Magnarelli
Dear Friend,
The lazy days of summer are upon us. But lazy doesn't have to mean we stop reading and learning. Reading books can be a fun, leisurely activity that doesn't require spending money! In addition, studies have shown that children who continue to read during the summer perform better in school in the fall.
Your local library is an excellent resource for reading material. To encourage our children to read more and become excited about reading, I am holding the Summer Reading Challenge, in cooperation with the New York State Library's initiative, Summer Reading at New York Libraries. Mark the enclosed calendar for each day in July and August that your child reads with you, someone else or alone. When you've marked off 40 or more days, your child has earned a New York State Assembly Excellence in Reading Certificate. Fill out the back of this pamphlet and return it, along with the calendar, to me. I'll ensure that your child receives a certificate.
Thank you and happy reading!
Sincerely,



Member of Assembly
New York State Assembly
Excellence in Reading Certificate
Information form
---
Child's name:
---
Parent/Guardian name:
---
Address1:
---
Address2:
---
Phone/E-mail:
---
Number of days completed:
---
Favorite book read this summer:
---
Number of years participated in the Summer Reading Challenge:
To receive your certificate, please complete the above form and send it with the calendar to:
Assemblyman
William Magnarelli
333 East Washington Street, Room 840
Syracuse, NY 13202
315-428-9651
magnarw@assembly.state.ny.us
For ideas on what to read, check the Suggested Reading List.