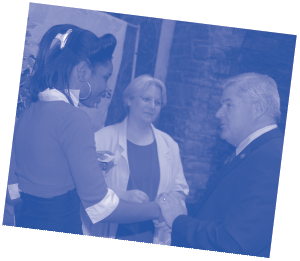 Fall 2009
Dear Neighbor:
The economic downturn has made it even harder for New York families to afford our state's high taxes and expensive cost of living. Family finances are stretched to the breaking point as more New Yorkers are working longer and harder than ever before.
That's why I'm advancing real solutions in the State Assembly to improve the quality of life for all New Yorkers.
This legislative update will touch on health care, education and the family budget, outlining some free informational resources – "news you can use" – available to you. If I may ever be of assistance to you or your loved ones, please contact my district office at
(315) 781-2030
, or e-mail me at
kolbb@assembly.state.ny.us
. Thank you.
Sincerely,

Brian M. Kolb
Assembly Minority Leader
129th District: Cayuga, Cortland,
Onondaga, Ontario & Seneca Counties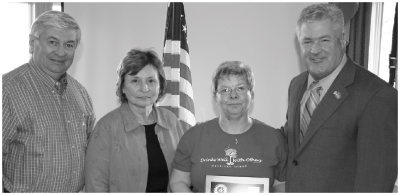 Pictured, from left to right, are Jack Moran, President-Elect of the Canandaigua Rotary Club; Barb Walters, of the Canandaigua Chamber of Commerce; "Outstanding Business Person of the Year" award winner, Patty Hotchkiss; and Brian M. Kolb, Assembly Minority Leader and Chairman of the Canandaigua Rotary Business and Professional Relations Committee.
KOLB HONORS CANANDAIGUA BUSINESSWOMAN
This summer, Brian Kolb presented the Canandaigua Rotary Club and Chamber of Commerce's "Outstanding Business Person of the Year" award to Patty Hotchkiss, owner of "Patty's Place," a popular local eatery that is the longest continually operating restaurant in Canandaigua.