Assemblyman
Rory Lancman
Committee Chair
Contact Information: Allison Weingarten
Legislative Director
718-820-0241
New York State Assembly
Subcommittee on
Workplace Safety
Assemblyman Lancman and Laborers Raise Awareness About "Move Over" Law That Protects Roadside Workers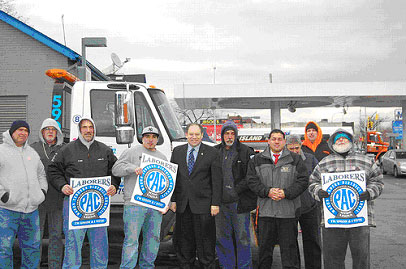 Assemblyman Lancman and members of LIUNA Local 79 raised awareness about the recently passed "Move Over" Law (Ch. 458 of 2011) that protects roadside workers. In addition to requiring drivers to pull over for police and firefighters, the law will protect construction workers like Local 79 members who work in hazard zones on New York's roads and highways.
"Anyone whose job requires them to be exposed on the side of a highway deserves the potentially life-saving consideration that this law provides," Assemblyman Lancman said. "Roadside workers should be able to perform their duties safely without fear of being struck by an inattentive driver."
From 2003-2010, there have been almost 1,000 worker deaths nationwide at road construction sites. Motor vehicle related incidents are the leading cause of workplace fatalities in the United States, accounting for 35% of all workplace fatalities.
"There are few workplaces more dangerous than the side of a busy highway," Lancman said. "Roadside workers, no matter what their task, deserve to be protected and this law will address the tragically high number of roadside fatalities."
Assemblyman Lancman Shows Solidarity
with Family and Colleagues of Fallen Bus Driver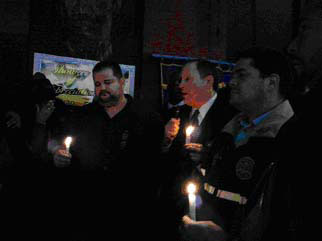 Commemorating the tragic death of bus driver Edwin Thomas, Assemblyman Lancman spoke at a candlelight vigil with Thomas's family, friends and coworkers. Bus driving remains a highly dangerous profession; a recent study counted 320 assaults on bus drivers from January 2011 to October 2011 alone. Assemblyman Lancman and TWU Local 100 President John Samuleson renewed their commitment to work towards safer working conditions for MTA bus drivers.
Assemblyman Lancman Discusses Pension Inequality at Center for Working Families Policy Conference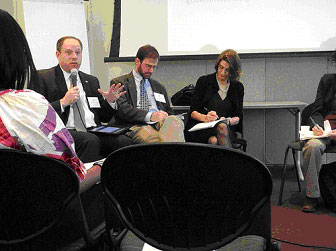 Assemblyman Lancman discussed retirement security and pension inequality at the 2011 Center for Working Families policy conference, "Good Ideas in Hard (And Exciting) Times: Policies for New York's 99%." Focusing on concerns about retirement security for middle-class and working families, Assemblyman Lancman said that retirement plans often favor wealthier Americans, as more than 70% of workers earning over $65,000 per year enjoy the benefits of a retirement plan, as opposed to only 40% of workers who make less than $40,000 per year.
Assemblyman Lancman Meets with New York State AFL-CIO Health and Safety Committee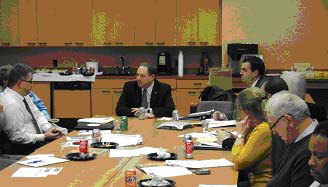 Assemblyman Lancman met with the NYS AFL-CIO Health and Safety Committee, which included representatives from nearly a dozen New York unions. As Chair of the Subcommittee on Workplace Safety, Assemblyman Lancman works closely with organized labor and values the guidance provided by health and safety experts in both private and public sector unions.
At the meeting, Assemblyman Lancman discussed the recently enacted Juvenile Justice Workplace Violence Prevention Act, the Safe Patient Handling Act and several other bills that affect New York's public sector workers. The Retail, Wholesale and Department Store Union (RWDSU) graciously hosted the meeting.
Subcommittee to Assess Whether Security Guards are Adequately Protected on the Job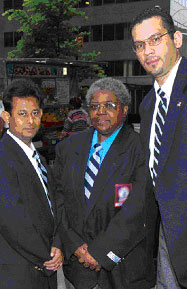 Assemblyman Lancman recently met with representatives of SEIU 32 BJ regarding safety conditions for security guards in New York City's commercial and residential buildings. A number of initiatives were discussed, including applying workplace violence protections to buildings that hire private security guards and expanding the required 16 hours of on-the-job training to better address workplace violence concerns.
Assemblyman Lancman Discusses Stalled Contract Negotiations with Queens Bus Drivers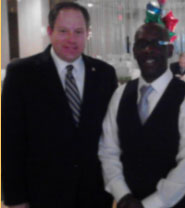 Assemblyman Lancman met with members of Amalgamated Transit Union Local 1056 as well as President Daneek Miller to discuss the union's stalled contract negotiations. The union, which represents 1,700 Queens workers, is currently locked in a dispute with the MTA to secure a contract that would afford ATU workers the same wages, benefits and protections that are afforded to other transit union members in New York City.