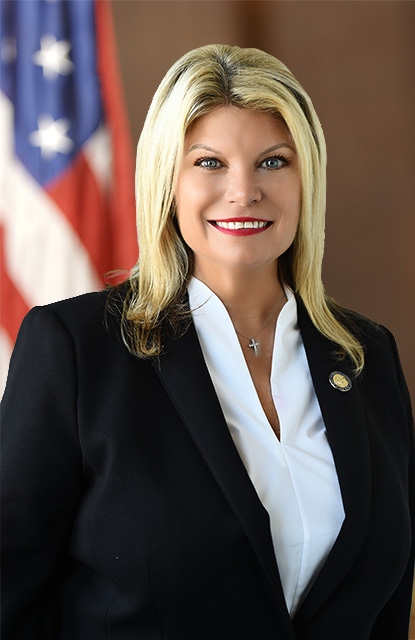 For some, starting a new job can be difficult, but for long-time Riverhead Councilwoman Jodi Giglio the transition to the state Assembly has been seamless. Jodi committed herself to serving her community years ago and has earned a reputation as a hard worker and tireless advocate for eastern Long Island. It is a work ethic that serves her well in Albany, as the change in landscape does not change the local issues she pledged to address.
With a resume of success in the business world, Jodi knows what it takes for her constituents to both survive and thrive in the COVID era. She has been a tireless advocate for getting children back to school and re-opening the economy. She fights the heavy burden of wasteful government spending, taxes, fees, and mandates that have put an enormous strain on local businesses and taxpayers. She can be counted on as a loud and persistent voice for the rural East End in a state dominated by urban interests.
Jodi is at the forefront of the effort to repeal the new bail laws that made a mockery of the criminal justice system. She supports law enforcement and law and order. Public safety is an ongoing concern of her constituents and they know she will make sure "Defund the Police" and other criminal-friendly schemes don't take hold. She is pro-Second Amendment and does not stand for tearing down historical statues and the defacing of public and private property.
As a town official for 10 years, Jodi's initiatives saved the taxpayers millions by reinventing government services and eliminating wasteful spending. She was behind the implementation of special code enforcement software to manage permits, inspections, and violations to create greater efficiency and communication between town departments. Effortlessly connecting town operations, the system allows for swift enforcement and prosecution of violations. Her insistence on bidding out residential garbage pickup has saved residents $148 per year since 2012 and she helped win $47,500 in federal monies for the Safe Routes to School sidewalk project, to name just a few of her achievements.
As a member of the Assembly, Jodi has expanded her role to target the state's crumbling infrastructure, better training for the workforce, and more critical care funding for our most vulnerable residents and veterans. She is a persistent voice against wasteful government spending and high taxes and fees, especially those that burden local businesses and homeowners. She is part of a coalition of legislators to ensure that Long Island gets its fair share of school funding and will make sure that the mental health needs of students are fully addressed. She wants sports and all other extracurricular activities to start up in full and believes that girl's teams should be limited to girls.
As an East Ender, Jodi knows full well the importance of protecting the environment as the lifeblood of our local economy. Agriculture, tourism and the beautiful parks and waterways residents enjoy will always be her priority. She spearheaded the preservation of 2,000 acres of local farmland and more than 200 acres of open space, as well as the completion of the 10-mile recreation trail and birder stand in Calverton, which became the foundation for the Vietnam Veterans Memorial Trail. She put forth legislation to prevent water pollution through upgraded sanitary systems and created a recycling fund and material tracking program. She spoke out against the disposal of dredge spoils and other dumping in the Long Island Sound, supported geothermal systems for manufactured homes through NYSERDA, and participated in the Peconic Estuary Program Climate Vulnerability Assessment and Action Plan.
Getting down to the nuts and bolts of what makes a municipality thrive, Jodi supported the upgrade to Riverhead's sewage treatment plant, the most innovative in the country, and led the charge to reuse biosolids from the system. She put forth a capital plan for improvements to the Riverhead Water District to make sure residents have a clean and steady supply of drinking water.
Jodi holds Suffolk's seniors in high regard and serving them has been a benchmark of her career. She created the Mobile and Manufactured Home Task Force to protect the mostly elderly residents who live in the local parks and has not let up in her effort to return visitation rights to families and friends with loved ones in care facilities. She will not rest until the truth comes out about the decision to send virus patients into nursing homes and will make sure the tragic losses and heartache never happen again.
Jodi is a proud union member of Local 138 of the International Union of Operating Engineers and successfully ran a state-certified Women-Owned Business Enterprise. She has been honored by Minority Millennials Inc. as a Woman of Distinction and her positive impact on minorities and youth continues into her legislative service.
The Assemblywoman has been a resident of Baiting Hollow for the last 20 years and is a mother of three. Her experience in the private and public sectors equip her with a unique perspective on how to tackle the state's toughest challenges, particularly in the wake of the COVID-19 pandemic. She looks forward to promoting common-sense solutions that will restore the power back to the people of New York State and put our economy back on track.
Her district includes the North Fork of Long Island, portions of the town of Brookhaven, and the towns of Riverhead and Southold.