January 2017
January 2017
Opening of the
240th Legislative Session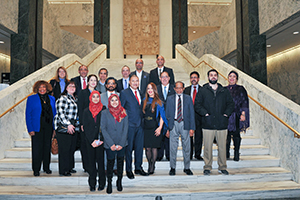 On January 9, 2017 Assemblyman Phil Ramos welcomed distinguished community leaders from his district to the opening of the first day of the 240th Legislative Session in Albany.
Every year it's an honor for Assemblyman Ramos to receive guests from the 6th Assembly district - which includes the hamlets of Brentwood, Bay Shore and Central Islip in Suffolk County.
Click here to see the introduction of Assemblyman Ramos' guests on the floor of the New York State Assembly.
Stay Connected
Assemblyman Ramos
is your voice in Albany
As your representative in the State Assembly, Assemblyman Ramos works for you. He hears your concerns, takes action and gets real results for Suffolk County.
From strengthening our schools, to keeping our neighborhoods safe, Assemblyman Ramos will fight to make our community stronger and keep it moving in the right direction.
My office can help you
Obtain benefits, government forms and applications
Learn about HEAP, STAR, EPIC or other government programs
Replace lost medals or awards for veterans
Answer any questions on New York State government
Listen and solve problems in the community
My office is open weekdays 9am to 5pm.
Please stop by or give us a call!