End of Session Special Report
June 26, 2018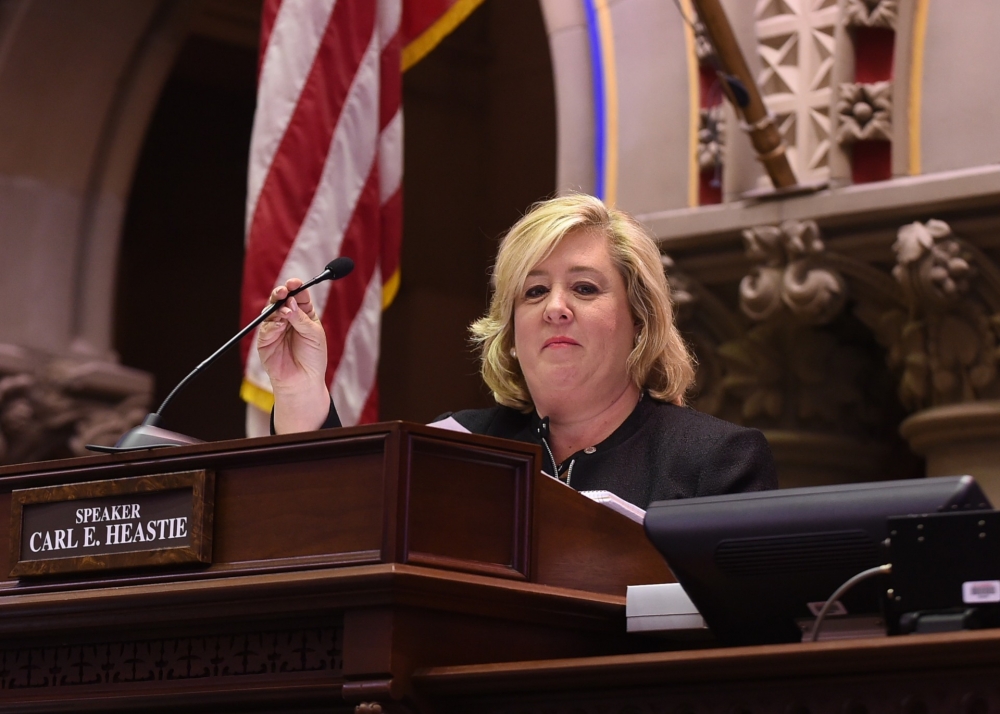 Dear Friends and Neighbors,
We had a very productive legislative session in Albany this year and last week, was the last day of session for 2018. I want to share with you this year's legislative successes important for the quality of life in our district and the state as a whole. I am especially proud of the work done to advance legislation that promotes equal rights for women and the LGBTQ community, increased transparency of the number of women holding leadership and policy-making decisions in government, and mandating the state Department of Health to undertake studies in relation to the marine transfer station to protect our health and wellbeing.
While I am pleased with the progress we have made this year, I must comment on the work that remains to be done. As stated in more detail below, we must tackle the issue of educational equity in our city's specialized high school, but it must be done in a way that allows all stakeholders to provide input and shape the outcome of their children's educational future. The Supreme Court recently struck down a ban on nationwide sports betting and the Legislature did not pass any legislation moving towards legalization in New York, an issue that will have to be considered thoughtfully during the next session. While bail reform has stalled in the Senate, both houses were able to approve a new commission to investigate misconduct by prosecutors to increase accountability in the court. Finally, it is tragic that Senate Republicans haven't moved on many efforts to increase school safety in the wake of terrible shootings in Parkland, Florida and Santa Fe, Texas. In the Assembly, we passed bills banning bump stocks, establishing a waiting period for gun buyers with no background checks and empowered school administrators to block at-risk youth from purchasing guns. It is shameful that the Senate did not pass this critical legislation and it is absolutely essential we do better during next year's session.
As always, our office is just a call, email or visit away. Enjoy the start of summer and I hope to see you soon!
Best Wishes,
Rebecca A. Seawright
Legislative Accomplishments
Protecting Our Seniors' Quality of Life
Seniors gained many protections and increased funding for quality of life-enhancing programs through the budget and stand-alone legislation this year. Specific provisions that Rebecca fought for include:
Increasing Tenant Protections - Co-sponsored legislation that established harassment of a rent-regulated tenant as a crime in the first and second degree; passed the Assembly.
Restored over $40 million in funding in the state budget to programs that directly help seniors such as long-term care, spousal refusal, hospital and nursing reimbursements, and managed care.
In the district office, Rebecca's staff held a series of events in recognition of Older Americans Month, focusing on brain health and wellness, fall prevention and headache and migraine relief.
Grappling with the Threat of Gun Violence
Gun violence continues to be one of the most pressing issues facing our community and reform is an issue that frustratingly still faces roadblocks in the State Legislature. The Assembly passed a number of measures aimed at keeping our children safe but Senate Republicans have refused to debate the Assembly's bills. That being said, here is a recap of some gun-related measures Rebecca played an important role in passing:
Assembly Bill A10272 was passed by both houses and signed by the Governor. The bill subjects domestic violence offenders to suspension and revocation of their license to carry, possess, repair or dispose of a firearm.
Assembly Bill A8976B - This bill establishes extreme risk protection orders as a court-issued order of protection prohibiting a person from purchasing, possessing or attempting to purchase or possess a firearm, rifle or shotgun
Governor Cuomo's "Red Flag" Legislation - Rebecca supported and the Assembly passed this legislation which would allow a court to prohibit people (such as troubled students) to buy or possess firearms.
The Path Towards Equality for All, Once and for All
Rebecca has been a tireless advocate for the rights of women during her time in the Assembly and beforehand, as a community activist. Upon her election, she has fought for an Equal Rights Amendment Bill to change the New York State Constitution, and guarantee equal rights for women enshrined into law. This year, Assembly Bill A7990 passed in the Assembly and is awaiting passage in the Senate, bringing equal rights one step closer to being fully realized.
Additionally, Rebecca sponsored and successfully spearheaded the passage of the Women's Website Bill (A5487), which requires the creation of a public database showing female representation in policy-making positions. Even though women make up about half the population, they are greatly outnumbered by men in government. This database will expose the injustice that women face every day and will play a key role in empowering more women within the political sphere.
Admissions Fairness and the Specialized High School Admissions Test
Earlier this month, Assembly Bill A10427A was introduced which would abolish the Specialized High Schools Admissions Test (SHSAT). The Assembly was only given two business days to review, discuss and debate the legislation, clearly an inadequate amount of time, given the monumental changes the legislation would bring about. With such little time to discuss, Rebecca voted "no" on this legislation in order to give educators, students, teachers, and alumni more time to provide input before rushing into any decision. Rebecca is committed to addressing injustices in the public schools system and is looking forward to doing so in a thoughtful manner.
Protecting the Character of Our Neighborhood
We continue to face pressure from developers looking to exploit our increased transit access and build even taller buildings at the expense of the character of our neighborhood. Rebecca has been a leading voice against overdevelopment in our neighborhood. Here are just a few ways Rebecca has fought overdevelopment this year:
Continues to oppose legislation uncapping floor area restrictions in NYC: in 2016, Rebecca successfully opposed this legislation that would increase density in her district. She opposes a similar proposal that has made its way in the Senate this year.
Co-sponsored an Overdevelopment Forum with Borough President Gale Brewer, Council Member Ben Kallos, and Senator Liz Krueger educating residents on ways they can fight back against developers exploiting loopholes
Supports the Community Board 8 resolution for a 210-foot height cap on all new development in the district
Funding Community Programs
In addition to fighting to maintain and increase spending on a number of essential programs and services for our community, Rebecca secured over $1 million in grant funding for critical community programs and partners in the district:
$625,000 awarded to all three New York Public Library branches to upgrade wiring/electricity and improve facilities
An additional $250,000 awarded to both Yorkville Middle School and PS 158 to fund security cameras for their buildings; this funding brings the total grant to $500,000
$125,000 to PS 183 to fund the renovation of the faculty resource and literacy room
Eleanor Roosevelt High School, Yorkville Community School and PS 183 all received $25,000, to be used at the discretion of each school's principal
$20,000 was awarded to the Neighborhood House at Holy Trinity to be used towards social services they provide through their shelter and meal programs
$5,000 was awarded to the National Choral for their after-school music programs provided to students in the district at no charge
Marine Transfer Station and Air Quality
When Rebecca was elected to office four years ago, she vowed to fight to protect this neighborhood against the effects of a new marine transfer station on East 91st Street. She secured two significant victories in this fight during this year's legislative session:
Included in the FY19 Budget was a provision directing the NYS Department of Health to study the high burden of asthma in Brooklyn and Manhattan and provide recommendations on how to address this public health concern
Rebecca sponsored legislation directing the State Department of Health to conduct air quality tests at waste/marine transfer stations in every county statewide to properly inform residents of any ill health effects
Honoring the Life and Legacy of Edie Windsor
In May, Rebecca partnered with Senator Brad Hoylman and held a press conference honoring the life and legacy of Edie Windsor, civil rights champion and lead plaintiff in the Supreme Court Case Windsor vs. United States. Rebecca urged the Legislature to live up to Edie's legacy and continue passing legislation guaranteeing equal rights and protections to the LGBTQ community. As a result of Rebecca's commitment to Edie's legacy and equal rights, she voted in favor and the Assembly passed, the following bills:
Gender Expression Non-Discrimination Act (GENDA - A3358) - this bill adds "gender identity or expression" to the language of the existing NYS Human Rights Law that protects against discrimination in the areas of employment, healthcare, housing, public transportation, public accommodations and credit.
Banning Conversion Therapy (A03977) - this bill prohibits mental health professionals from practicing conversion therapy with patients under the age of 18, with the purpose of changing their sexual orientation.
NYS DREAM ACT (A09605) - this bill creates a DREAM fund and commission in order to advance educational opportunities for children of immigrants by providing college scholarships and allowing immigrant families to open accounts under the NYS College Tuition Savings Program.