Stay informed about the Coronavirus
April 2, 2020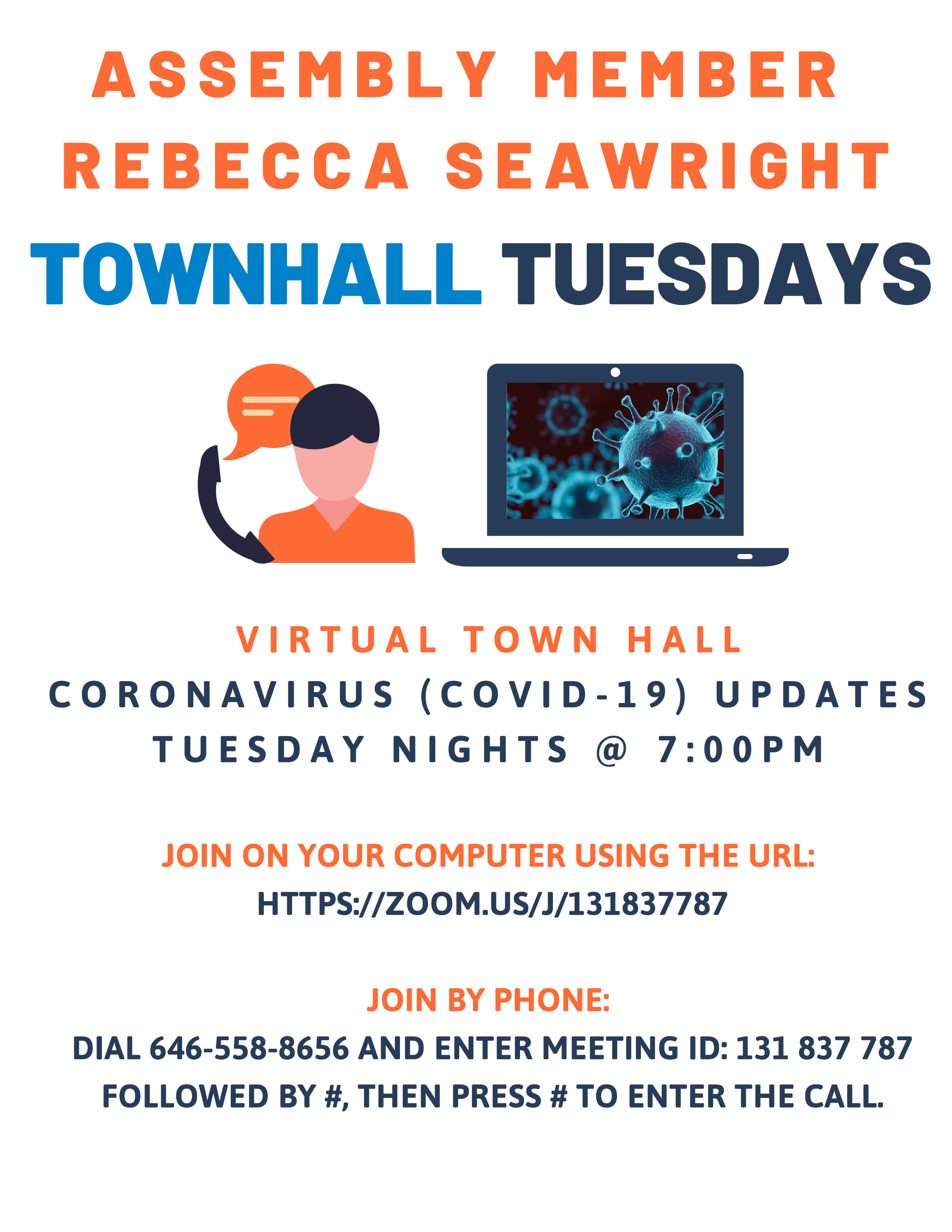 As a novel Coronavirus – COVID-19 – continues to affect our daily lives, New York State and federal health officials are continuing efforts to enact policies that keep New Yorkers safe, stop the spread and #flattenthecurve.
We hope you find the information below to be informative and helpful. If you are in need of information or assistance, please don't hesitate to contact our office. We regretfully have suspended in person appointments and meetings, due to public health considerations. We are eager to continue assisting constituents by telephone and email. Please leave a message on our voicemail with your name, address and phone number and our staff will return your call:
Phone: 212.288.4607
Email: SeawrightR@NYAssembly.gov
Sincerely,
Rebecca
APRIL 7, 2020: VIRTUAL TOWN HALL TONIGHT!
APRIL 8 2020 TUESDAY TOWNHALL: SENIOR CITIZENS AND THE HOMEBOUND ELDERLY
APRIL 9, 2020: CORONAVIRUS (COVID-19) SPECIAL REPORT
APRIL 14, 2020: TUESDAY TOWNHALL: CRIME AND PUBLIC SAFETY
APRIL 17th 2020: CORONAVIRUS (COVID-19) SPECIAL REPORT
APRIL 21, 2020: TONIGHT! VIRTUAL TOWN HALL TUESDAY ON CYBER SECURITY AND SCAM PREVENTION
APRIL 23, 2020: TOWN HALL ON CYBER SECURITY
APRIL 24, 2019: CORONAVIRUS (COVID-19) SPECIAL REPORT
APRIL 28, 2020: EDUCATION TOWN HALL
May 5, 2020: FEEDING NYC TOWN HALL
MAY 7, 2020: ASSEMBLY MEMBERS SEAWRIGHT & QUART WITH FDNY FIREFIGHTERS TO HOLD PRE-MOTHER'S DAY CELEBRATION FOR HOSPITAL & HEALTHCARE HERO MOMS
MAY 8, 2020: CORONAVIRUS (COVID-19) SPECIAL REPORT
MAY 12, 2020: VIRTUAL TOWN HALL TUESDAY
MAY 15, 2020: CORONAVIRUS (COVID-19) SPECIAL REPORT
MAY 19, 2020: VIRTUAL TOWN HALL TUESDAY
MAY 19, 2020: VIRTUAL TOWN HALL TUESDAY
MAY 22, 2020: CORONAVIRUS (COVID-19) SPECIAL REPORT
MAY 26, 2020: VIRTUAL TOWN HALL TUESDAY REMINDER
MAY 26, 2020: TUESDAY TOWNHALL: PARKS & RECREATION
MAY 29, 2020: CORONAVIRUS (COVID-19) SPECIAL REPORT
JUNE 2, 2020: MY STATEMENT ON RECENT VIOLENCE AND PROTESTS IN AMERICA, REPEAL 50-a, VIRTUAL HOUSING TOWN HALL, HOUSING LEGAL CLINIC